On June 15, 2017, cadets from various law enforcement agencies who began training in March graduated from the St. Mary Parish Sheriff's Regional Training Academy. Sheriff Mark Hebert congratulates the graduates of Session 57 on their completion of the POST Level I academy and Peace Officer Standards and Training certification.
The St. Mary Parish Sheriff's Office Regional Training Academy's standards of professionalism in policing prepares cadets to meet the challenges facing today's law enforcement officers. The cadets of Session 57 underwent 565 hours of instruction and training. Under the direction of Captain Brian Charpentier, cadets achieve a level of mental and physical skill and conditioning that contributes to a positive police culture and equips them to excel at meeting ever evolving public safety needs. Among the extensive curriculum and certification programs are criminal and traffic law, ethics and standards of conduct, emergency management, first aid and CPR, community policing, crisis intervention, crime prevention, defensive tactics, firearms training, and physical conditioning.
Cadets are also taught the value of respect, selfless service, compassion, and integrity. The 15 weeks of training culminated with the administration of the Louisiana Peace Officer Standards and Training (POST) test.
Sheriff Mark Hebert addressed the cadets and their family and friends at the graduation ceremony held at the Forest Restaurant in Franklin. Sheriff Hebert says, "Law enforcement is always evolving and you must be able to adapt and respond in a professional manner. You've shown great energy and enthusiasm during the academy and for your chosen profession of law enforcement. I'm confident that you will be successful in your careers. It is an honor and pleasure to serve with you."
Guest speaker, 16th Judicial District Court Judge Vincent Borne says, "What you do in the community every day matters."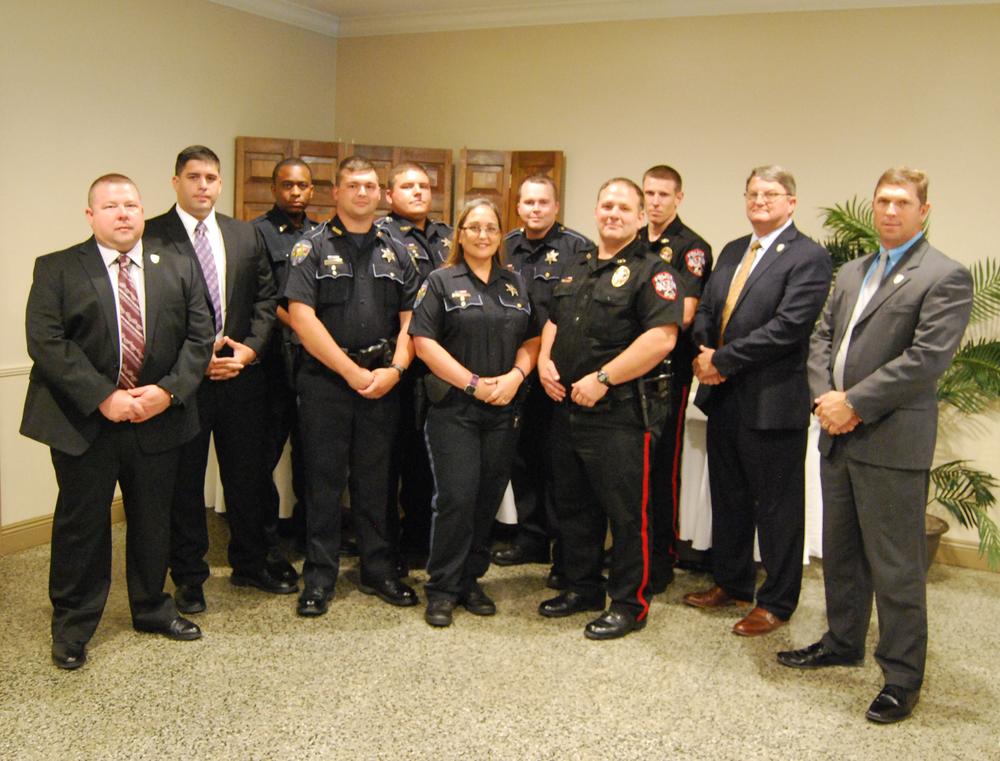 From left to right are Academy Director Captain Brian Charpentier; Assistant Academy Director Captain Sennett Wiggins; Jeanerette Police Department Officer Michael Lewis; St. Mary Parish Sheriff's Office Deputies Jefferson Barrilleaux, Landon Pillaro, Jenifer McDill, and Lucas Allen; Nicholls Police Department Officers Jerry Gilmore and Colby Stegall; St. Mary Parish Sheriff Mark Hebert; St. Mary Parish Sheriff's Office Chief Deputy Scott Anslum.
Nicholls Police Department Office Jerry Gilmore received the John Kahl, Sr. Award of Excellence presented by St. Mary Parish Sheriff's Office Major John Kahl, Jr. The award is presented to a deputy who achieves the highest academic scores.
The Firearms Performance (Top Gun) Award for the highest score in firearms performance was presented to St. Mary parish Sheriff's office Deputy Jefferson Barrilleaux by Academy Assistant Director Captain Sennett Wiggins.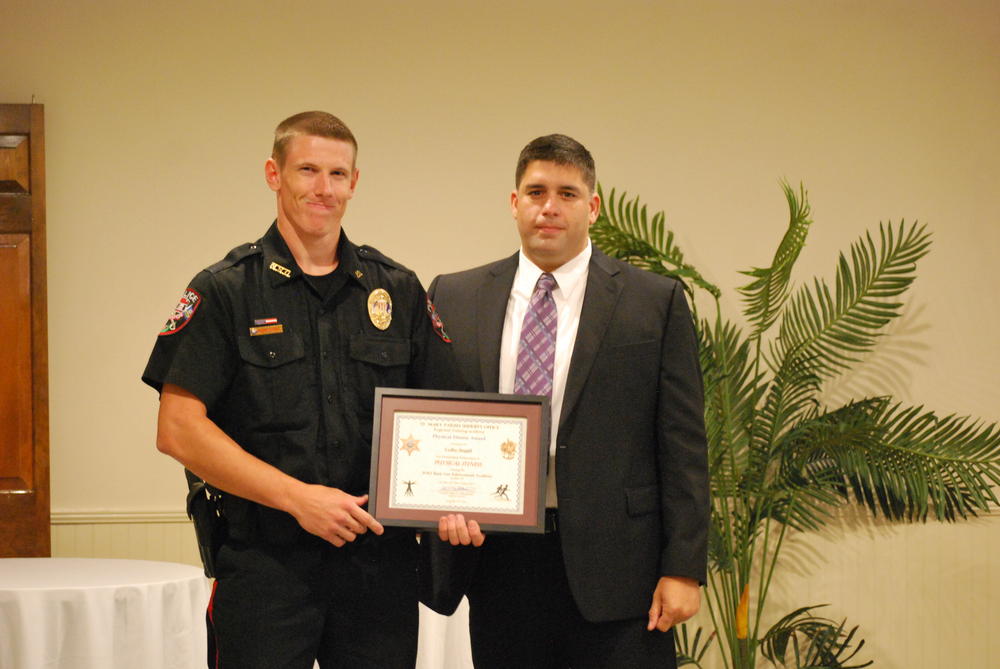 Officer Colby Stegall of the Nicholls Police Department received the Physical Fitness Award for attaining the highest score in athletic performance. The award was presented by Academy Assistant Director Captain Sennett Wiggins.
Contact Information:
Traci Landry
Detective Lieutenant
St. Mary Parish Sheriff's Office
Public Information Office
985-354-0714
www.stmaryso.com