Sheriff Mark Hebert announces the Deputy of the Quarter for the second quarter of 2017. Uniformed Patrol Section Deputy Jimmy Stinnett, Jr. accepted the award from Sheriff Hebert at St. Mary Parish Sheriff's Office headquarters in Franklin. Sheriff's deputies are occasionally called to act in a manner beyond routine expectations. The Deputy of the Quarter award is presented to an employee of the St. Mary Sheriff's Office who exemplifies that standard. Sheriff Hebert recognizes Dep Stinnett for his outstanding service above and beyond the call of duty.
One morning in June, on his way to work, Dep Stinnett responded to a medical emergency call in Bayou Vista. Along with his fellow deputies, he administered cardiopulmonary resuscitation to a woman in medical distress. Stinnett then volunteered to ride with medical personnel in an ambulance in order to help continue CPR while transporting the patient to an area hospital. Another deputy provided an escort for the ambulance. Because of Stinnett's and his fellow deputies' quick actions, the woman survived.
Also in June, Stinnett worked as the lead diver for the St. Mary Parish Sheriff's Office Dive Team during a property recovery operation. Stinnett recovered several items from the murky depths of Bayou Teche that were reported stolen from a residence.
Sheriff Hebert commends Stinnett for these outstanding acts and for the professionalism and courtesy he demonstrates daily in his interactions with the people of St. Mary Parish. Sheriff Hebert and Chief Deputy Scott Anslum presented Dep Stinnett with the award certificate and a challenge coin.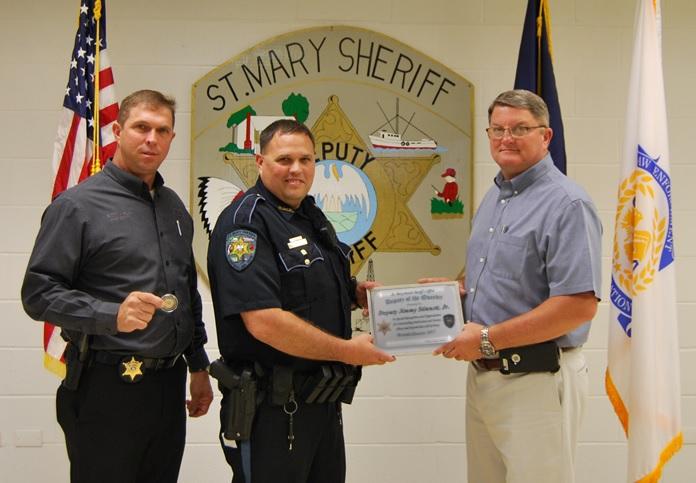 From left to right above, Chief Deputy Scott Anslum, Dep Jimmy Stinnett, Jr., and Sheriff Mark Hebert.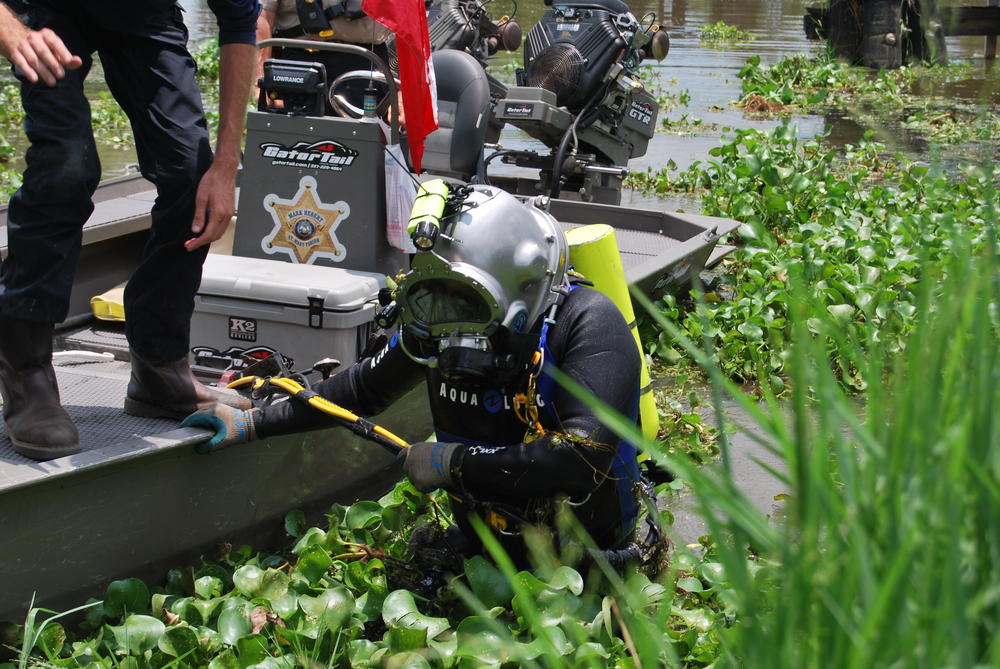 Above, Dep Stinnett comes up from a dive in Bayou Teche in Franklin during the property recovery operation.
Contact Information:
Traci Landry
Detective Lieutenant
St. Mary Parish Sheriff's Office
Public Information Office
985-354-0714
www.stmaryso.com