Canine Wound Heroes provided a tactical vest to St. Mary Parish Sheriff's Office K-9, Buddy. The non-profit's mission is to protect police dogs from gunshot and stabbing injuries and death by providing vests to agencies who want to protect their K-9's. Thanks to its donors, the organization provides the vests at no cost to law enforcement agencies.
Made in the USA, the E613 ballistic vest was provided by K-9 Tactical Gear and is equipped with stab protection and a stabilized body extraction harness.
K-9 Buddy was provided with the vest thanks to donations made by people across the country to Canine Wounded Heroes.
Sheriff Mark Hebert says, "We are appreciative of the generosity of the people who support Canine Wounded Heroes who helped us fill this need. The new vest will help keep K-9 Buddy and his handler safe as they perform their duties to the citizens of St. Mary Parish."
The St. Mary Parish Sheriff's Office also thanks Mrs. Didi Battle and Mrs. Delores Stewart of Franklin for their assistance which ultimately led to receiving the grant for the K-9 vest.
If you'd like to participate in this great cause visit Canine Wounded Heroes' website at http://www.caninewoundedheroes.org or their Facebook page at https://www.facebook.com/caninewoundedheroes/
Chief Deputy Scott Anslum, Detective Chris Crappell (K-9 handler), K-9 Buddy, and Sheriff Mark Hebert
K-9 Buddy and his partner (handler) Detective Chris Crappell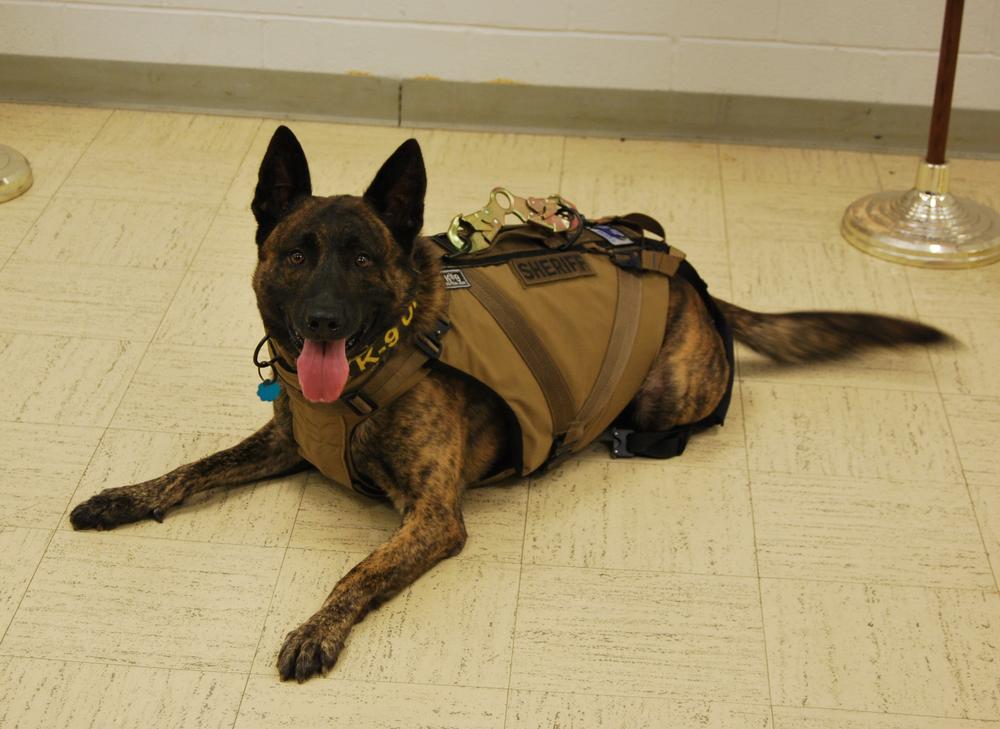 K-9 Buddy
Contact Information:
Traci Landry
Detective Lieutenant
St. Mary Parish Sheriff's Office
Public Information Office
985-354-0714
www.stmaryso.com