St. Mary Parish Sheriff Mark Hebert is proud to announce that Deputy Winifred Rodriguez has accepted the position of D.A.R.E. Officer.
The St. Mary Parish Sheriff's Office D.A.R.E. Officer coordinates Drug Abuse Resistance Education for approximately 500 fifth grade students across the parish each school year.
Rodriguez is a five-year veteran in law enforcement. A 2013 graduate of the St. Mary Parish Sheriff's Office POST Level I Training Academy, Rodriguez served in the criminal patrol division at the Franklin Police Department before coming to the St. Mary Parish Sheriff's Office in 2017.
Rodriguez graduated from the D.A.R.E. Officer Training School in Pineville, LA in August. During the ten-day training, Deputy Rodriguez gained the knowledge and skills necessary to return to St. Mary Parish and teach school children the "D.A.R.E. Keepin' It Real" curriculum.
Deputy Rodriguez says, "By becoming the D.A.R.E. Officer in the parish that I was raised in, it gives me the opportunity to give back to my community in a positive way."
The D.A.R.E. program no longer focuses on drugs and drug abuse alone. It incorporates anti-bullying messages and other topics that give kids the tools to make safe and responsible decisions in their everyday lives.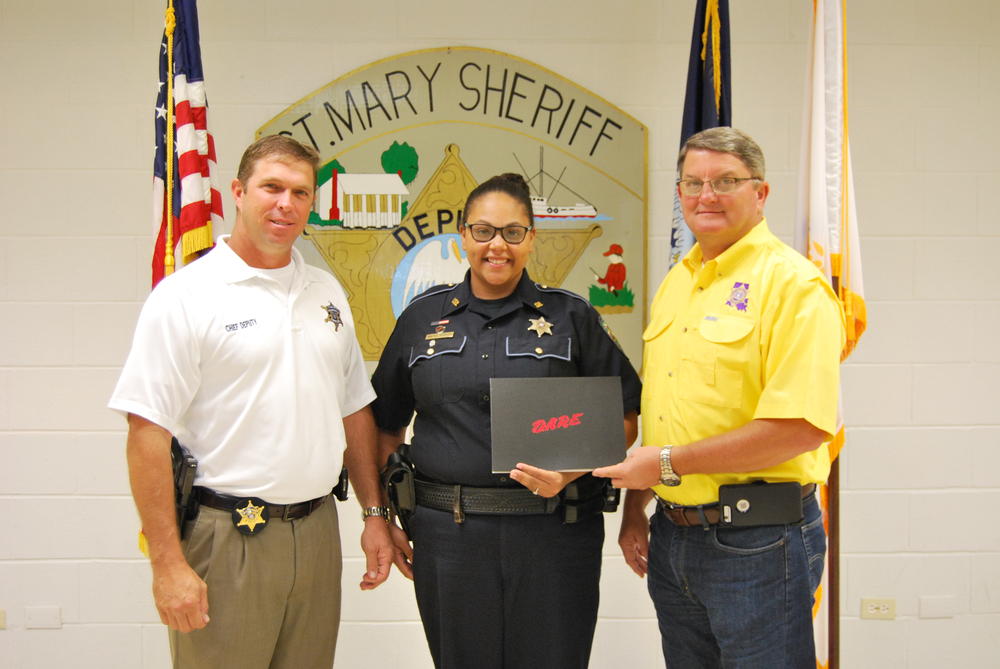 From left to right, Chief Deputy Scott Anslum, Deputy Winifred Rodriguez, and Sheriff Mark Hebert.
Contact Information:
Traci Landry
Detective Lieutenant
St. Mary Parish Sheriff's Office
Public Information Office
985-354-0714
www.stmaryso.com