The St. Mary Parish Sheriff's Office Narcotics Division participated in Operation Ghostbusters, a multi agency 3 day effort to remove illegal narcotics and guns from the streets. From October 28th through the 31st, the combined efforts of agencies from four parishes resulted in 110 arrests. Agencies seized a total of 4 guns and over $44,000 in crack cocaine, methamphetamine, synthetic cannabinoids, and other illegal substances.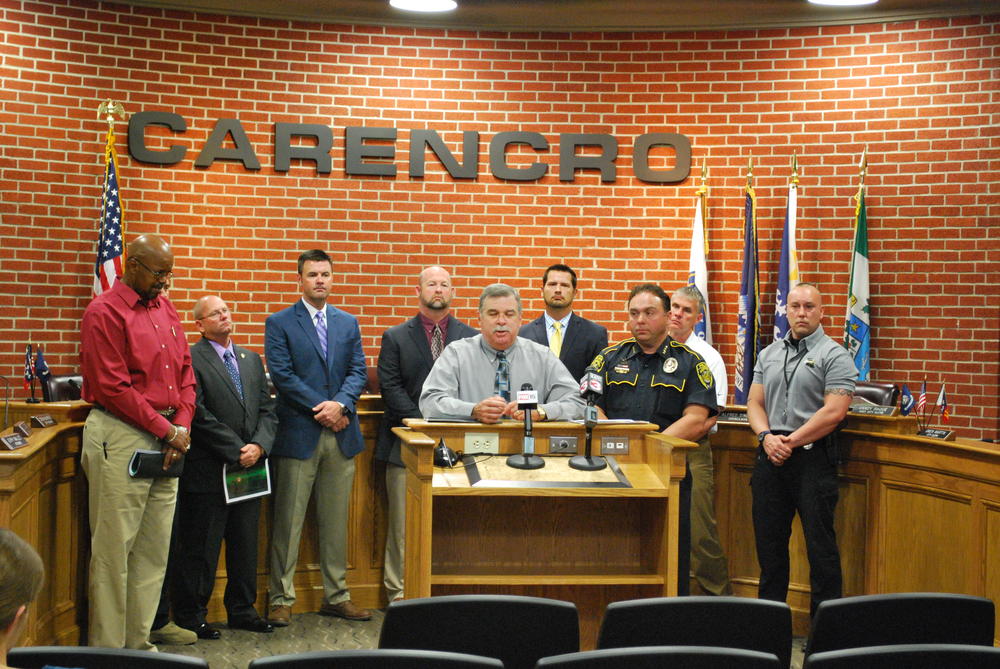 Major Gary Driskell and Captain John Kahl join representatives from the multi agency effort as Lafayette Police Chief Jim Craft and Carencro Police Chief Carlos Stout announce the results of the operation
St. Mary Parish Sheriff's Office Major Gary Driskell and Narcotics Division Commander Captain John Kahl attended a press conference Wednesday in Carencro, LA announcing the outcome of the operation which was initiated by the Lafayette Metro Narcotics Task Force. Other agencies involved in the 4 day operation are Lafayette Parish Sheriff's Office, Louisiana State Police, Lafayette City Marshal's Office, Probation and Parole, and the Lafayette, Opelousas, Crowley, Scott, Broussard, Carencro, and Duson Police Departments.
Traci Landry
St. Mary Parish Sheriff's Office
Public Information Officer
985-384-1622 Ext. 714