Enforcement of the Governor's Mask Mandate
07/13/2020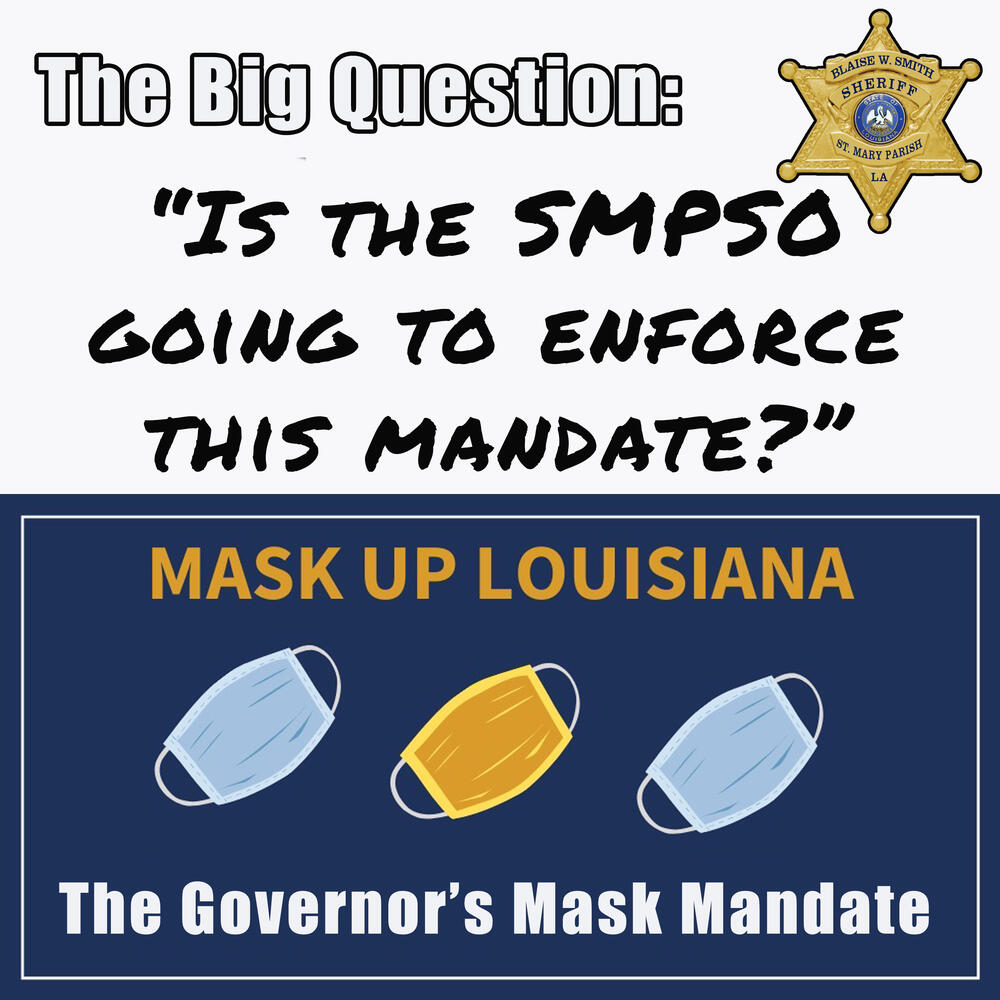 St. Mary Parish Sheriff Blaise Smith announces the SMPSO clarification of the mask mandate.
"With the public asking questions about how we will respond during this time of a mask mandate from the governor, as well as speculation on social media which includes misleading information, we want to be clear with the public concerning what our response will be during this time." -Sheriff Blaise Smith
On Saturday, Governor John Bel Edwards issued a statewide "mask mandate," which states that people will be required to wear masks when entering businesses or outdoors if they cannot be 6 feet away from others. The governor's proclamation can be read here: https://gov.louisiana.gov/assets/Proclamations/2020/89-JBE-2020.pdf?fbclid=IwAR2ScCXNQSSI1yekI2VRhElNaRFBBXe20vHG-sUl5Eqg-4aBBj1ZdwEWOdI
The question for us has been "how will you enforce this mandate?" We want to make sure we are clear on how the mask mandate works.
When it comes to the enforcement of the mask mandate for individuals and businesses, please consider the following points:
1- The St. Mary Parish Sheriff's Office is NOT the agency that will be issuing citations to businesses that are not in compliance. The proclamation also indicates that GOHSEP and the State Fire Marshal are directed to ensure compliance. Therefore, anyone wishing to report someone for not wearing a mask at an establishment should do so to an employee of that establishment. If the response is unsatisfactory, you may then contact the State Fire Marshal at 1-800-256-5452.
2- The SMPSO will NOT be issuing any citations to individuals who do not wear a mask. Regarding enforcement, the proclamation states that citations "shall be written only to businesses or organizations, other than religious organizations, that fail to enforce the requirement to wear face coverings." Citations cannot be written to an individual for refusing to wear a mask, only to businesses or organizations that do not enforce the mandate inside their establishments.
3- If a business asks a customer to leave for any reason (including refusal to wear a mask), then the SMPSO would answer that call from the business. Any person who breaks the law by disturbing the peace or remaining on private property after being forbidden could be given a citation or arrested. This is no different than the way in which the SMPSO answers these types of calls normally.
4- There are exceptions made for persons who are not required to wear a mask. Those exceptions are listed in the governor's proclamation. The public is reminded that some persons not wearing a mask may be doing so due to one of those exceptions.
Sheriff Blaise Smith encourages the public to be courteous and understanding when patronizing local businesses. If the business owner asks for a customer to wear a mask, please do so or leave the business. Our St. Mary Parish business owners are operating to serve their customers and now have the mask mandate handed down to them from the governor. Your kindness and courtesy at this time will be deeply appreciated by our business owners.
Public Information Officer
St. Mary Parish Sheriff's Office
985-384-1622
pio@stmaryso.com
http://www.stmaryso.com/