St. Mary Parish Sheriff's Office detectives investigating the theft of a wallet and unauthorized use of an access card received an anonymous tip regarding the suspect's identity and location after releasing pictures of the suspect in the crime. Detectives positively identified Charmaine M. Hebert as the person who is seen on video surveillance at Walmart in Bayou Vista reaching into a victim's shopping basket and taking a wallet. Also, detectives were notified by the Thibodaux Police Department that their agency investigators were working to identify a similar suspect in two theft cases that occurred in their jurisdiction.
St. Mary Parish Sheriff's Office detectives obtained a search warrant for Hebert's place of residence, a room at a hotel in Amelia. During the search, detectives located personal items including purses, wallets, and credit cards with various names. Detectives determined that some of the items belonged to the victims in the two Thibodaux cases. The items were returned to those victims today.
As detectives were conducting the search warrant investigation at the hotel, they received a call from Morgan City Police who had detained Hebert during a separate but similar incident that occurred at a store in Morgan City. During a search of Hebert's person, Morgan City Police located the social security card of the victim in the Bayou Vista theft.
Sheriff's Office detectives subsequently acquired a warrant for Hebert's arrest on the charges of theft, unauthorized use of an access card, and two counts of illegal possession of stolen things. Hebert remains incarcerated at the Morgan City jail pending booking on the warrant charges.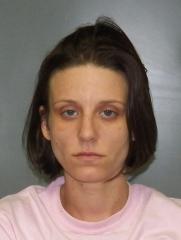 Charmaine M. Hebert
Traci Landry
St. Mary Parish Sheriff's Office
Public Information Officer
tracilandry@stmaryso.com
985-384-1622 Ext. 714