Doric Lodge #205 F&AM Morgan City recently held their First Responder Night recognizing emergency responders who provide outstanding service across the parish. Those recognized are Ofc. Billy Chapman-Berwick PD, Master Trooper Scott Verret- LSP, BM 1st Class Timothy Dinger-USCG, Sgt. Bart Lange-SMPSO, Det. Travis Trigg-MCPD, Capt Mark Young-MCFD and Blake Comeaux of Acadian Ambulance Services.
The St. Mary Parish Sheriff's Office offers congratulations to all of the award recipients for their performance and dedication to their jobs. We also thank lodge members for acknowledging the important role first responders fill for the communities of our parish.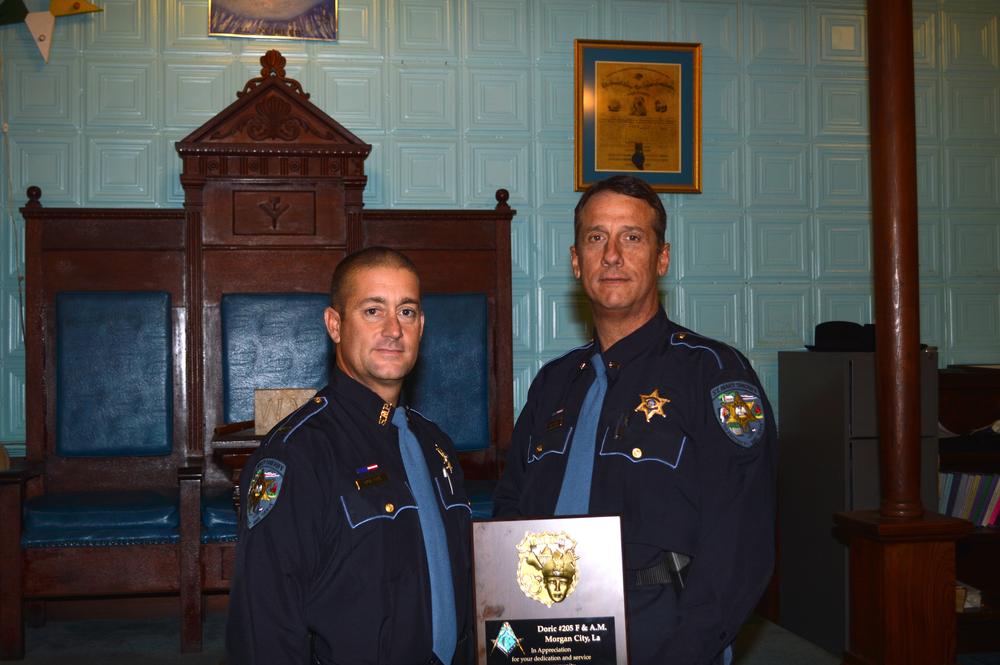 Sgt. Lange (right) and supervisor Lt. Ross Mire (left)
Sgt. Lange, the award recipient from the St. Mary Parish Sheriff's Office, began his career with the St Mary Parish Sheriff's Office in 2005 and quickly showed his dedication to his duties responding to assist with the aftermath of Hurricane Katrina in New Orleans. He is currently assigned to the St Mary Parish Sheriff's Office Marine Division. Sergeant Lange's vast knowledge of the waterways, dedication to his job and professional boat handling skills have proven him to be a valuable asset to the St Mary Parish Sheriff's Office as well as the community.
In addition to the required Peace Officer Standards Training, Sergeant Lange receives specialized maritime law enforcement training. He holds a USCG Boat Captain's License as well as being a certified Tactical Boat Operator by the National Association of State Boating Law Administrators. In addition to working a regular work schedule, Marine Division Deputies work an on-call rotation. The Marine Division receives more after hour callouts than any other division within St Mary Parish Sheriff's Office.
Among the countless number of emergency callouts, in the Fall of 2014, Sergeant Lange assisted in a search and rescue call involving a young couple who were lost in the fog near Cypremort Pt. The weather conditions consisted of dense fog, rough seas and low temperatures. Sergeant Lange, along with another Marine Division Deputy responded and rescued the couple. They were transported back to safety and treated for hypothermia.