St. Mary Parish Sheriff Mark Hebert is proud to announce that Karla Meranto-Cornes has accepted the position of D.A.R.E. Officer. Meranto-Cornes recently graduated from advanced DARE Officer training held in Pineville, LA.
The St. Mary Parish Sheriff's Office D.A.R.E. Officer coordinates Drug Abuse Resistance Education for approximately 500 fifth grade students across the parish each school year. Meranto-Cornes brings a wealth of experience to the assignment.
A native and resident of St. Mary Parish, Meranto-Cornes attended Morgan City High School. Upon graduation, she married and moved to Europe spending three years in the cities of London and Paris. While in London, Meranto-Cornes volunteered in the American schools as a teacher's assistant. After returning home, she attended Nicholls State University graduating with a Bachelor of Science Degree in Child & Family Social Services. Her education and training background also includes classes in addiction and substance abuse, child abuse, and interpersonal violence (i.e. violence against women and children). Additionally, she brings years of experience in law enforcement and juvenile justice to her new position. She has served as a volunteer for Court Appointed Special Advocates (CASA) for 2 years; she has worked as a reserve police officer with Berwick Police Department for 13 years; and she has been employed for the Office of Juvenile Justice (state juvenile probation/parole) for 6 years. Meranto-Cornes has served with the St. Mary Parish Sheriff's Office for the past 3 years, working as a patrol deputy before being trained and assigned as a School Resource Officer in 2014.
Meranto-Cornes currently resides in Morgan City with her 4 children. She says, "I am excited and blessed to have the opportunity to teach D.A.R.E. in St. Mary Parish Schools. The D.A.R.E. Curriculum is such an amazing program that provides children with the skills needed in making decisions that will have positive consequences in their lives rather than negative consequences. As a law enforcement officer, I aspire to continue being a positive role model for our children while teaching them fundamental life skills in the decision making process to keep them safe now and throughout their young lives."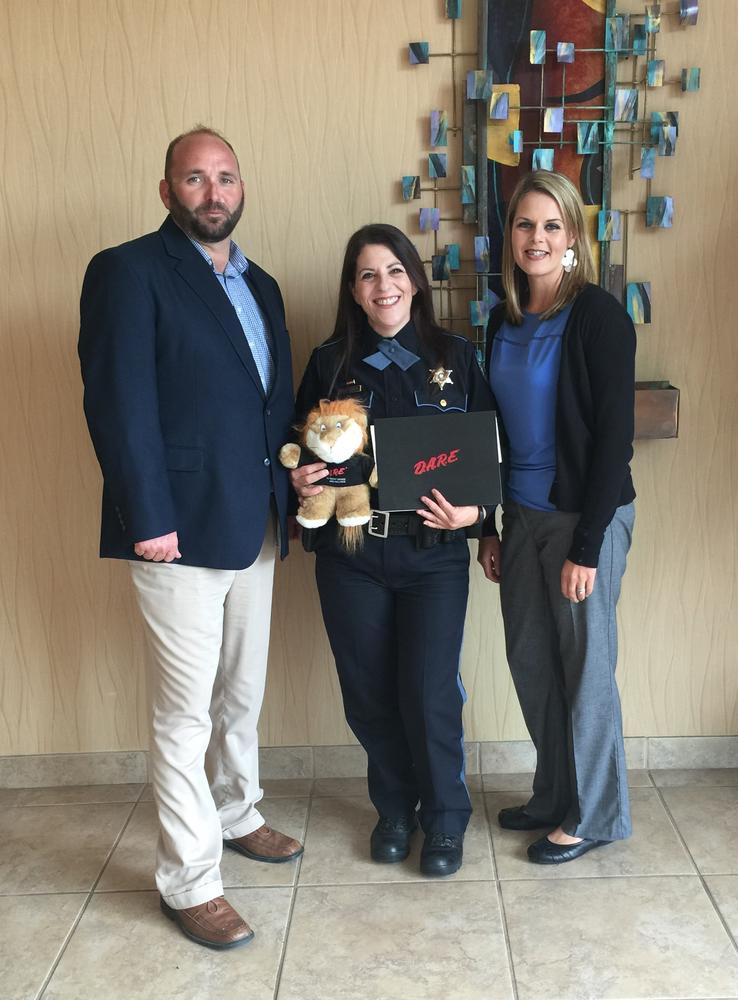 In the picture from left to right: Captain Nick Rogers, Deputy Karla Meranto-Cornes, and her supervisor, Captain Stephanie Duhon
Traci Landry
St. Mary Parish Sheriff's Office
Public Information Officer
pio@stmaryso.com
985-384-1622 Ext. 714