"Never in the history of law enforcement has the profession been under greater scrutiny and demand for accountability. You can brag about all of the programs you've put in place and how effective you've been at reducing crime and making a difference in your community, but to some degree that will always be self serving.
Accreditation provides accountability to the people you serve." CALEA Commissioner and Lafourche Parish Sheriff, Craig Webre, explained the significance of becoming an accredited agency at the Commission on Accreditation for Law Enforcement award ceremony held at St. Mary Parish Sheriff's Office headquarters last week.
While accreditation programs in the fields of medicine and education have been available for some time, accreditation in the profession of law enforcement is relatively new. CALEA was formed in 1979 when 4 organizations, the National Sheriff's Association, International Association of Chiefs of Police, National Association of Black Law Enforcement Executives, and Police Education Research Foundation joined together to create an accreditation program to certify that law enforcement agencies meet professional standards of excellence in delivering public safety services. The Commission establishes standards that represent the best practices in law enforcement in the country today. The standards, which cover and agency's functional capacity, professionalism, personnel, operations, and logistics, are constantly reviewed, modified, and enhanced as the field of law enforcement develops.
Under the leadership of Sheriff Mark Hebert, the St. Mary Parish Sheriff's Office has proven that it meets or exceeds those standards. Webre presented the CALEA accreditation award on behalf of the Commission and its chairman. According to Webre, "Across the United States there are approximately 18,000 state and local law enforcement agencies. Of those, only 5% are accredited today." He went on to commend Hebert and the deputies who serve with the St. Mary Parish Sheriff's Office for accomplishing accreditation in the first 4 years. "It is something that very few agencies can accomplish and is unprecedented in this state."
The St. Mary Parish Sheriff's Office is now among four sheriff's offices in Louisiana that currently hold CALEA accredited status. Hebert thanked deputies for believing in his vision to improve the office. "I know change is hard. It wasn't an easy task. This accreditation is not a Sheriff Hebert award, this is a St. Mary Parish Sheriff's Office award that was made possible because of your hard work," Hebert said.
More information on CALEA can be found at www.calea.org.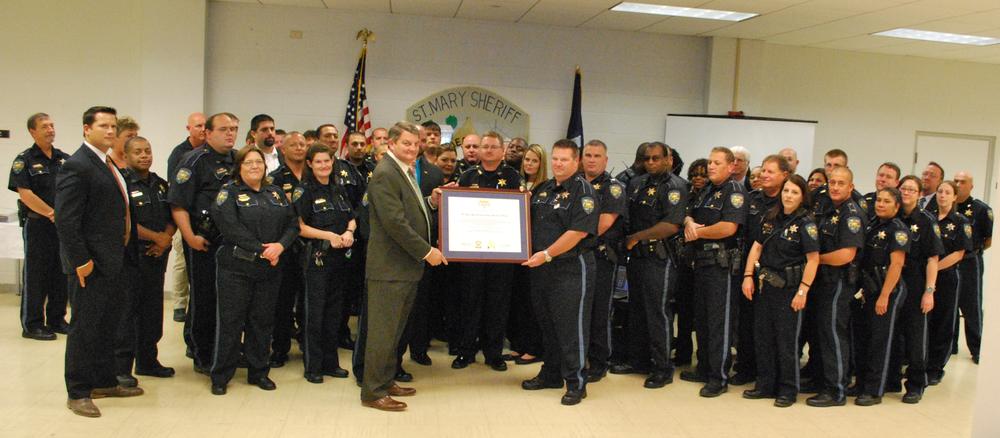 Sheriff Mark Hebert presents the CALEA accreditation to Deputies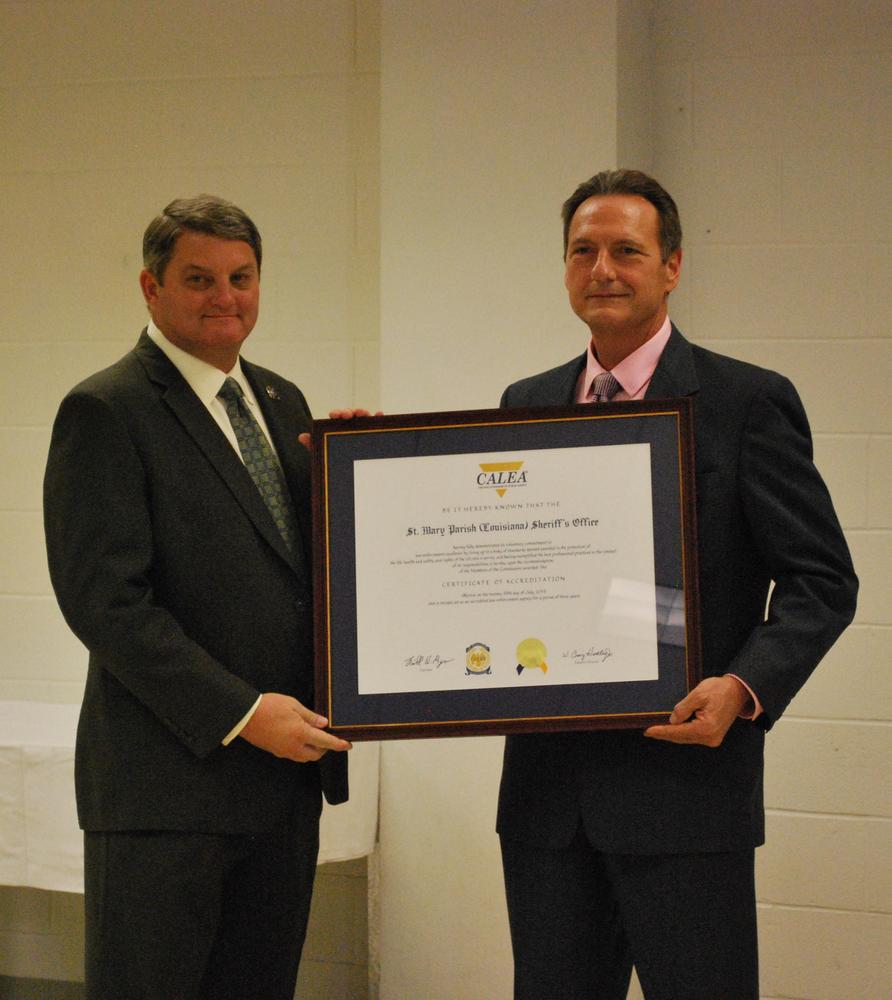 Sheriff Mark Hebert with CALEA Commissioner and Lafourche Parish Sheriff Craig Webre
Traci Landry
St. Mary Sheriff's Office
Public Information Officer
pio@stmaryso.com
985-354-0714