The St. Mary Parish Sheriff's Office was invited to share information on criminal activity and tips on safeguarding property with a group of residents from Teche, David, and Carol Roads in Bayou Vista. Sheriff Mark Hebert and members of the SMPSO met with residents at the Bayou Vista Community Center Thursday night to give an update on two open cases from that neighborhood. The meeting was part of a new neighborhood watch group initiated by members of the community who reside on those streets.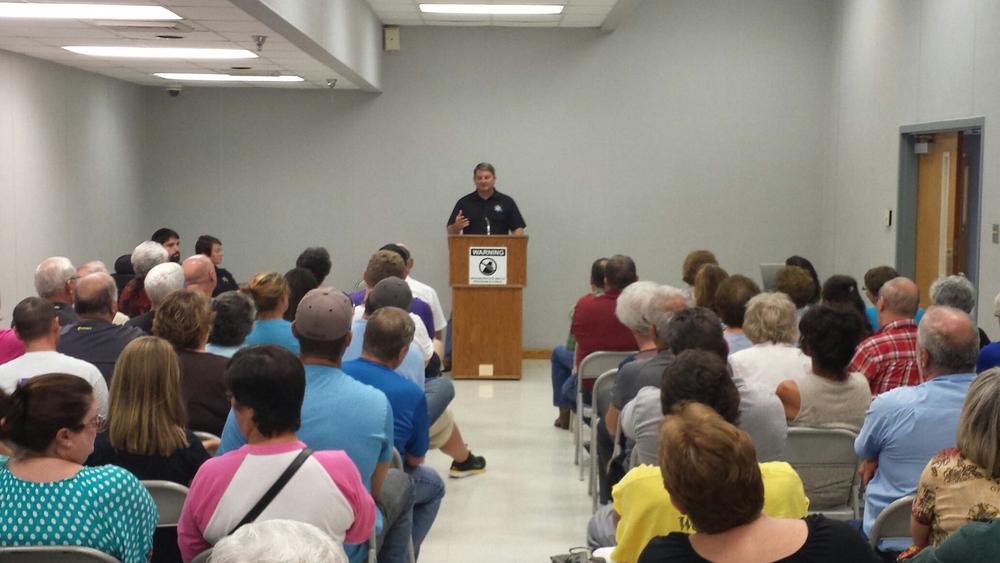 Sheriff Mark Hebert Answering Questions from Bayou Vista Residents
Below is some of the information provided to residents at the meeting:
Detectives are currently investigating two residential burglaries and a vehicle burglary that occurred during the night on Teche and David Roads in Bayou Vista last week. The St. Mary Parish Sheriff's Office received the calls on Tuesday morning, August 12, 2014. In both cases, small items such as wallets and cell phones were taken out of the homes. Some of the items were recovered nearby and returned to the owners. Upon receiving the complaints from Teche and David Roads, the St. Mary Parish Sheriff's Office Patrol Division implemented patrol actions aimed specifically at stopping this type of criminal activity in that area. Through those actions, and increased patrols, deputies have made arrests on other cases in the neighborhood.

On Thursday, August 21, 2014, the St. Mary Parish Sheriff's Office received a report of a burglary at a residence on Sunset Avenue. Deputies learned from the homeowner that a laptop computer and other items were taken from the residence.

The cases remain under investigation. Detectives are working to determine if the crimes that occurred on Teche and David are related to the most recent burglary on Sunset. Deputies will expand specialized patrols to that area as well.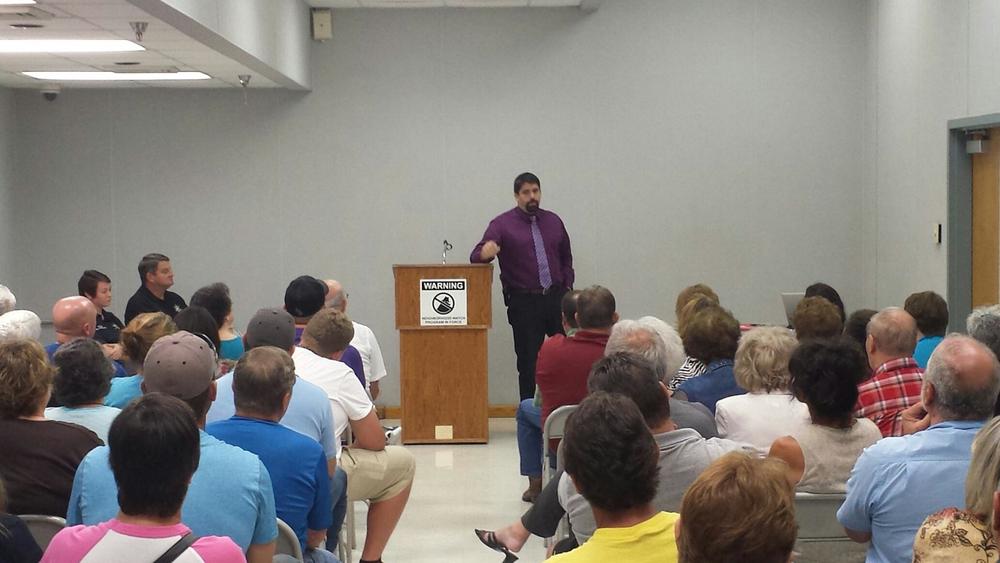 Lt. Sennet Wiggins Offering Tips on How Residents can Protect Themselves from Becoming a Victim of Property Crimes
In two of the incidents there were no signs of forced entry. Residents are reminded to consistently lock doors and windows of homes and vehicles. Do not give criminals the opportunity to victimize you. Also, in all three cases, neighboring residents contributed by providing information on the crimes and by promptly reporting suspicious activity to deputies. We ask that residents remain observant and diligent in reporting anything out of the ordinary. The St. Mary Parish Sheriff's Office will continue to proactively patrol the Bayou Vista community.

Anyone who may have additional information about these crimes may contact us at 384-1622, 828-1960, or by clicking on the Contact Us link at www.stmaryso.com.