Sheriff Mark Hebert announces that Kaeley Paige Hill has been named the recipient of an academic scholarship from the Louisiana Sheriff's Scholarship Program for the 2015-2016 school year. The daughter of James and Keri Hill of Berwick, Kaeley plans to attend Nicholls State University and pursue a Bachelor of Science in Nursing.
The Sheriffs' Scholarship is made possible by the Louisiana Sheriffs' Honorary Membership Program (LSHMP). Louisiana Sheriffs provide scholarships to graduating high school students from each parish where the Sheriff is an affiliate of the Program.

Qualities such as academic achievement, leadership, and character are considered in making selections of Sheriffs' scholarship recipients. The only limitations are that applicants be permanent residents of Louisiana; the $500 scholarships be utilized in higher education within the State; and students be enrolled as full-time, undergraduate students. Scholarships are awarded in all sixty-four parishes throughout the state.

Sheriff Hebert says,"Congratulations to Ms. Hill. We wish her the best as she pursues her goal of becoming a Family Nurse Practitioner. This is what the LSHMP is all about. It is an investment in Louisiana's future and gives something back to our community. It is the kind and generous support of St. Mary Parish's Honorary Members that make this award possible."

On behalf of the Sheriff, Major Scott Anslum presented the scholarship to Kaeley at Berwick High School's award ceremony held at the Berwick Civic Center this morning, May 9, 2016.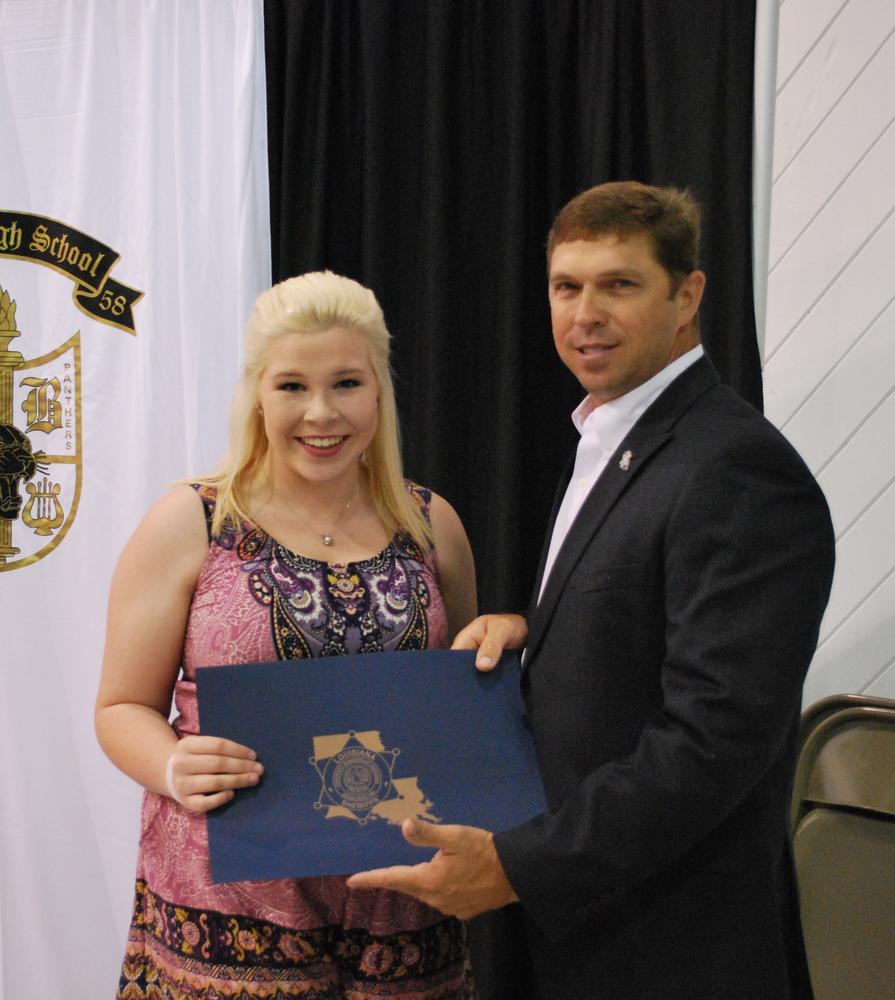 Traci Landry
St. Mary Parish Sheriff's Office
Public Information Officer
pio@stmaryso.com
985-354-0714