On May 25, 2016, the St. Mary Parish Sheriff's Regional Training Academy graduated 9 of the 12 cadets who began training in February. Sheriff Mark Hebert congratulates the graduates of Session 56 on their Peace Officer Standards and Training certification and completion of the POST Level I academy.
The St. Mary Parish Sheriff's Office Regional Training Academy prepares cadets to meet the challenges facing today's law enforcement officers by training to high standards of professionalism in policing. The cadets of Session 56 underwent over 500 hours of instruction and training. Under the direction of Captain Brian Charpentier, cadets achieve a level of mental and physical skill and conditioning that contributes to a positive police culture and equips them to excel at meeting evolving public safety needs. Among the extensive curriculum and certification programs are criminal and traffic law, ethics and standards of conduct, first aid and CPR, community policing, crisis intervention, crime prevention, defensive tactics, firearms training, and physical conditioning. Cadets are also taught the value of respect, selfless service, compassion, and integrity.
The 14 weeks of training culminated with the administration of the Louisiana Peace Officer Standards and Training (POST) test. The cadets successfully completed the training academy and passed the POST test.
Sheriff Hebert addressed the graduates at the graduation ceremony held at the Bayou Vista Community Center Wednesday morning.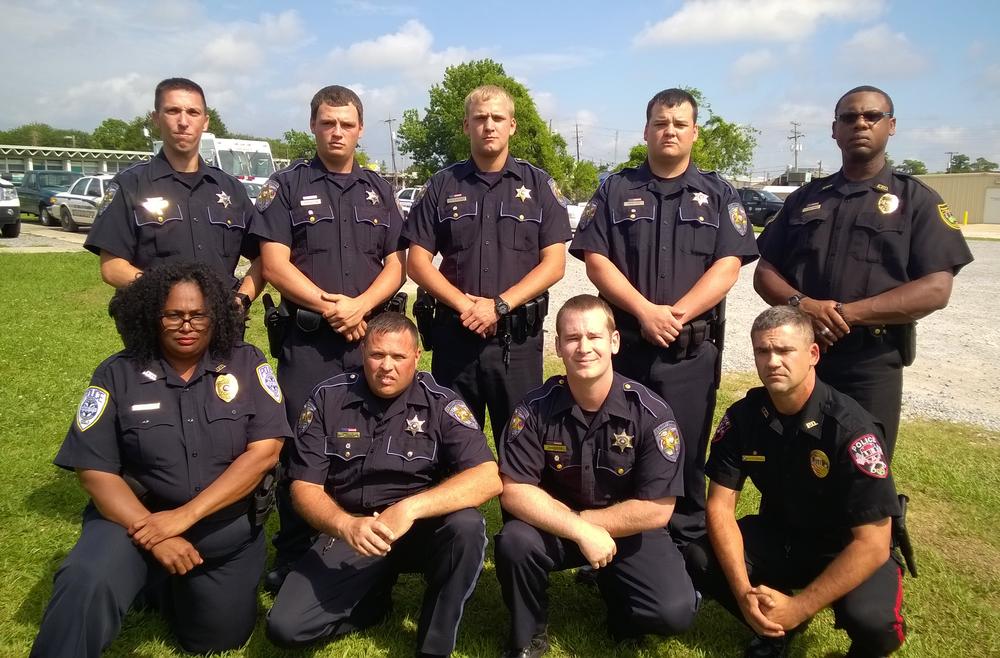 Officer Jordan Fabre of the Nicholls Police Department received the Firearms Performance (Top Gun) Award for the highest score in firearms performance. Deputy Eriq Blanchard of the St. Mary Parish Sheriff's Office received the Physical Fitness Award for the highest score in athletic performance. Deputy Ryan Aucoin of the St. Mary Parish Sheriff's Office was presented with the John Kahl Sr. Award of Excellence. This award is presented to a deputy who achieves the highest academic scores.
On the back row from left to right are: Jared Palmature, SMPSO; Ryan Veillion, SMPSO; Eriq Blanchard, SMPSO; Aaron Fetty, SMPSO; McCloures Manuel, Franklin Police Department. On the front row from left to right are: Latanuia Perry, Jeanerette Police Department; Jimmy Stinnett, SMPSO; Ryan Aucoin, SMPSO; Jordan Fabre, Nicholls Police Department.