Sheriff Mark Hebert announces the partnership of the St. Mary Parish Sheriff's Office in the Port of Morgan City Regional Collaboration Network (PMCRCN) through the Touch Assisted Command and Control System (TACCS).
The TACCS platform can pull data from multiple agencies' operation systems into one dynamic operating system. TACCS geospatial software enables decision makers to aggregate information, identify adverse conditions, determine and test responsive actions, and monitor the implementation of those actions.
As part of the network, the St. Mary Parish Sheriff's Office has worked over the last year with the Morgan City Harbor and Terminal District, TACCS creators Priority 5, and TACCS consultant American Integration Contractors, L.L.C. to structure and populate the software platform to better protect critical infrastructure, increase criminal justice capabilities, and promote public safety in St. Mary Parish.
The TACCS system is designed to be used to monitor and respond to severe weather events, hazardous chemical spills, mass casualties, and other critical emergency situations.
Sheriff Mark Hebert says, "The creation of the regional collaboration network and the utilization of TACCS furthers our goal of responding together with other agencies efficiently and effectively to save lives. The partnership has yielded an increased level of situational awareness for us and deputies will continue using TACCS to train alongside our public safety partners."
The project is currently being funded through Port Security Grants secured by the Morgan City Harbor and Terminal District. District Executive Director Raymond "Mac" Wade stated: "The port stands ready to work with and assist our community partners, especially those that protect our area maritime domain."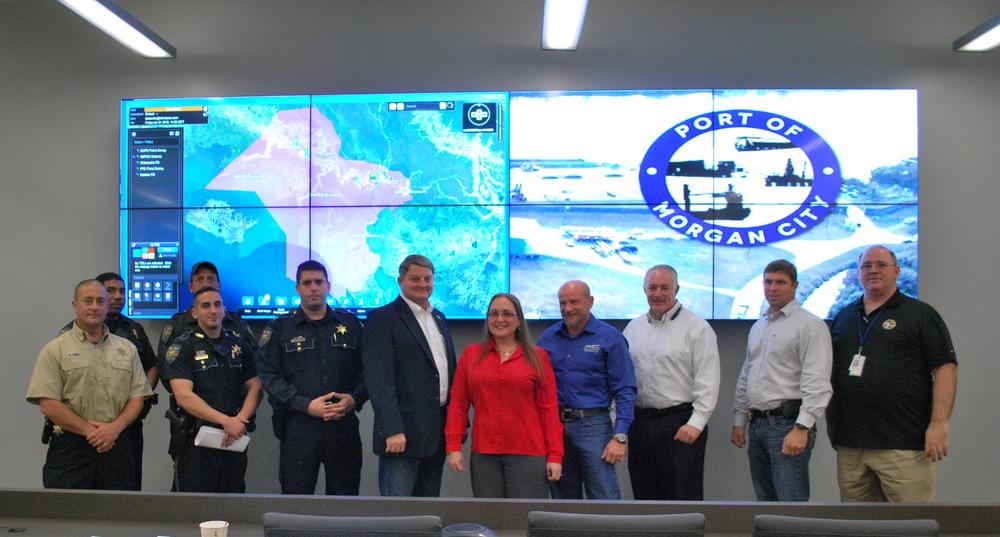 In the picture from left to right on the back row are: Sgt Taurean Smith and Sgt Bart Lange. On the front row from left to right are: Lt Ross Mire, Lt Mathew Moore, Capt Sennet Wiggins, Sheriff Mark Hebert, Dty Jenifer McDill, VP of American Integration Contractors Todd Mouton, CEO of American Integration Contractors Craig Noel, Mjr Scott Anslum, and Special Projects for the Morgan City Harbor and Terminal District Michael Knobloch.
Contact: Traci Landry
St. Mary Parish Sheriff's Office
Public Information Officer
985-354-0714