On the morning of December 27, 2015, St. Mary Parish Sheriff's Office deputies responded to a shooting at a residence in the Jeanerette area. Once they arrived on scene, a suspect began shooting at the deputies from within the residence.
As the situation unfolded, the suspect shot at deputies, all of whom were wearing protective vests. During the exchange of gun fire, one of the deputies was struck in the torso and legs. The protective gear saved that deputy's life. That deputy has recovered from the wounds and is currently back at work for the Sheriff's Office. Another deputy, Lieutenant Dustin Kennedy, was also fired upon. The tactical shield he carried withstood the rounds preventing serious injury and death.
The investigation by Louisiana State Police Detectives identified 18 law enforcement officers who were targeted by the suspect during the shooting.
Wednesday afternoon, the St. Mary Parish Sheriff's Office received a visit from a representative of The Safariland Group. Safariland is the maker of the body armor worn by the deputies at the St. Mary Parish Sheriff's Office. Company representative Erik Belsom presented the deputy who was saved by the equipment with a new body armor vest and presented Kennedy and the St. Mary Parish Sheriff's Office with a new tactical shield.
Both deputies join Safariland's Save Club. The program is made up of individuals who, in the line of duty, experienced a life-threatening critical incident where their Safariland armor or gear contributed to saving their life.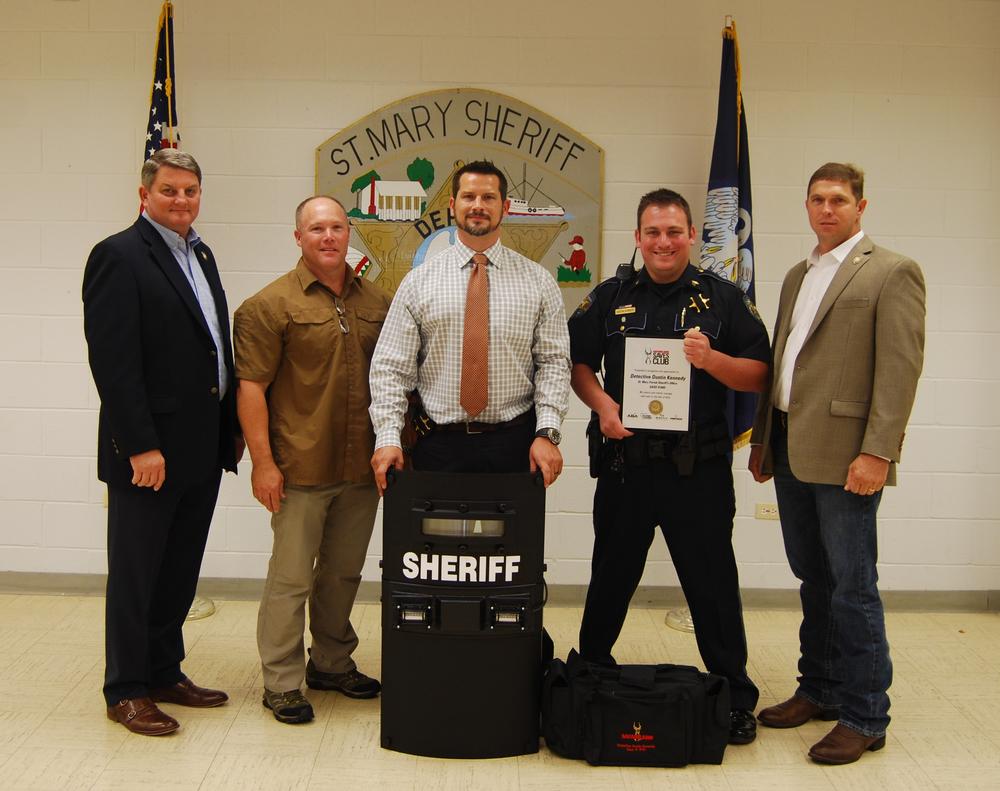 In the picture from left to right are St. Mary Parish Sheriff Mark Hebert, Safariland Account Manager Erik Belsom, Major John Kahl, Jr., Lieutenant Dustin Kennedy, and Chief Deputy Scott Anslum.
Contact Information:
Traci Landry
Detective
St. Mary Parish Sheriff's Office
Public Information Office
985-354-0714
www.stmaryso.com