The St. Mary Parish Sheriff's Office K-9 Unit trains weekly with K-9s and their handlers from other agencies, primarily the Terrebonne Parish Sheriff's Office K-9 Division. The TPSO K-9 teams whole welcomed the new St. Mary Parish Sheriff's Office K-9 Unit to participate in their training programs. The group periodically travels to different locations to conduct the weekly training sessions. These changes in surroundings challenge the K-9s abilities. Earlier this month, the deputies boarded the Mr. Charlie rig museum in Morgan City for a training experience on the water. The St. Mary Parish Sheriff's Office K-9 Unit assists the United States Coast Guard, US Customs and Border Protection, and the St. Mary Sheriff's Office Marine Division with securing the port facilities and waterways of St. Mary. The K-9 teams trained in disciplines of obedience, officer protection, criminal apprehension, building search, tracking suspects, crime scene searches, narcotics detection, and bomb detection.
Tuesday, the group, which also included the Houma and Franklin Police Departments, conducted their weekly training at MD Shannon Elementary in Morgan City.
Sheriff Mark Hebert offers special thanks to the staff and director of the Mr. Charlie rig in Morgan City for allowing the K-9's access to the unique training facility and St. Mary Parish school system administration for allowing the group to use the school.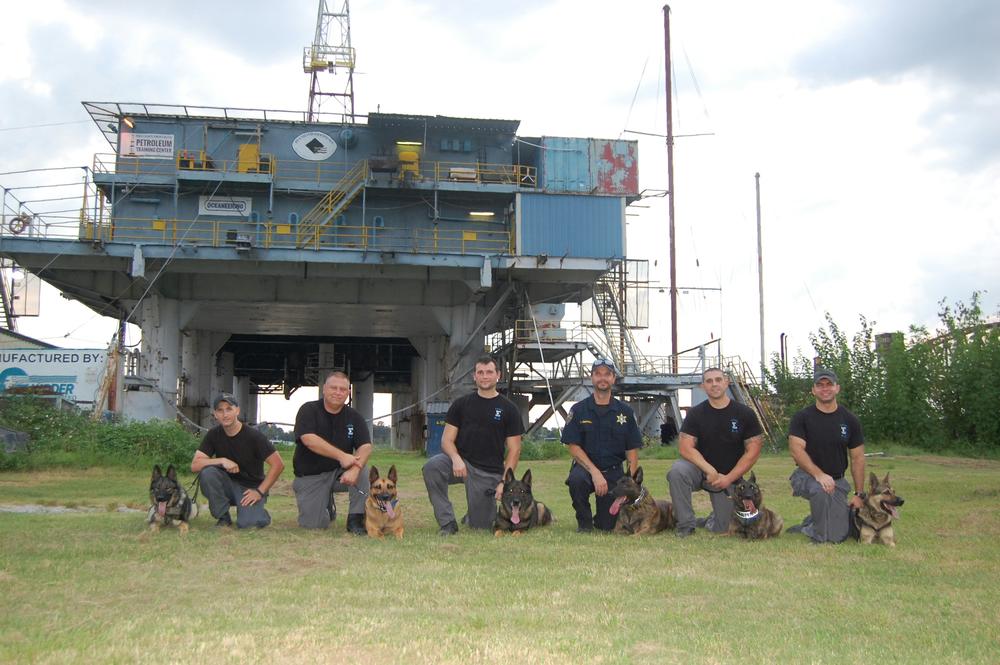 From left to right are: TPSO K-9 Cane & Max Verret, TPSO K-9 Ego & Shane Schwausch, TPSO K-9 Dozer & Joe Crappel, SMPSO K-9 Buddy & Chris Crappell, TPSO K-9 Ilka & Seth Boudreaux, TPSO K-9 Caron & Damian Rivero
Contact Information:
Traci Landry
Detective Lieutenant
St. Mary Parish Sheriff's Office
Public Information Office
985-354-0714