On Sunday, November 20, 2016, the St. Mary Parish Office responded to a report of the theft of a boat from Banana Pass in Sweet Bay Lake south of Berwick. The Marine Division detective assigned to the case determined that the boat disappeared from a camp sometime between 4:30 am Saturday morning and noon that same day. The boat is described as a "dead grass green" 19-foot long V-shaped homemade aluminum boat with a welded on 17-gallon gas tank. The boat has a 35 horsepower Gator Tail motor. The inside front of the boat has pink paint smeared on it. The boat also has numerous stickers on it. They are:
Back Water Bandicoots and Bone Collector stickers on the rear

Pink and green Toxic Bow Fishing stickers on the gas tank

A red and white This Boat Don't Run on Thank Yous' sticker on the gas tank

A pink Toxic Bow Fishing sticker on the motor
Multiple items in the boat were also reported stolen. Among the items are a deep cycle marine battery, bilge pump, 2 homemade deer stands, life jackets, 2 camouflage Fog Togg slicker suits, and a flare gun.
If you think you may have seen the boat or the items on it, please contact the St. Mary Parish Sheriff's Office Marine Section at 985-384-1622, 337-828-1960, or by email at crimewatch@stmaryso.com. You can remain anonymous.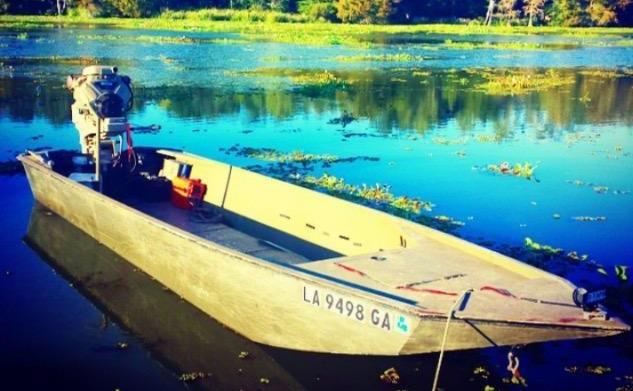 Contact Information:
Traci Landry
Detective Lieutenant
St. Mary Parish Sheriff's Office
Public Information Office
985-354-0714
www.stmaryso.com