St. Mary Parish Sheriff Scott Anslum Announces New Mobile App Available for Download
02/14/2018
Sheriff Scott Anslum announces that a new mobile app for the St. Mary Parish Sheriff's Office is now available for download in the Google Play Store and Apple App Store. The app is free for users to download on both Android and iOS mobile devices. To download, visit www.StMarySO.com/app or go to the Google Play Store or Apple App Store and type "St Mary Parish LA Sheriff" in the search bar.
The mobile app allows easy access to the most important features of the Sheriff's Office website: Contact Us, Submit a Crime Tip, Inmate Roster, Press Releases, Most Wanted fugitives, and Frequently Asked Questions.
App users can select which push notifications they would like to subscribe to through the App. The new mobile App will serve as an additional information resource for the public and will assist with community policing efforts.
Sheriff Scott Anslum says, "The app is an additional way to provide transparency for the Sheriff's Office and encourage the public to take an active role in community policing efforts. We would love for every parish resident to visit or to download our app and sign up for our push notifications. We believe our App will be a huge benefit to the residents of St. Mary Parish and the Sheriff's Office as well."
The new mobile app was developed by Brooks Jeffrey Marketing, Inc.
For more information about the new mobile app, contact the St. Mary Parish Sheriff's Office at 985-384-1622 ext 714 or visit www.StMarySO.com.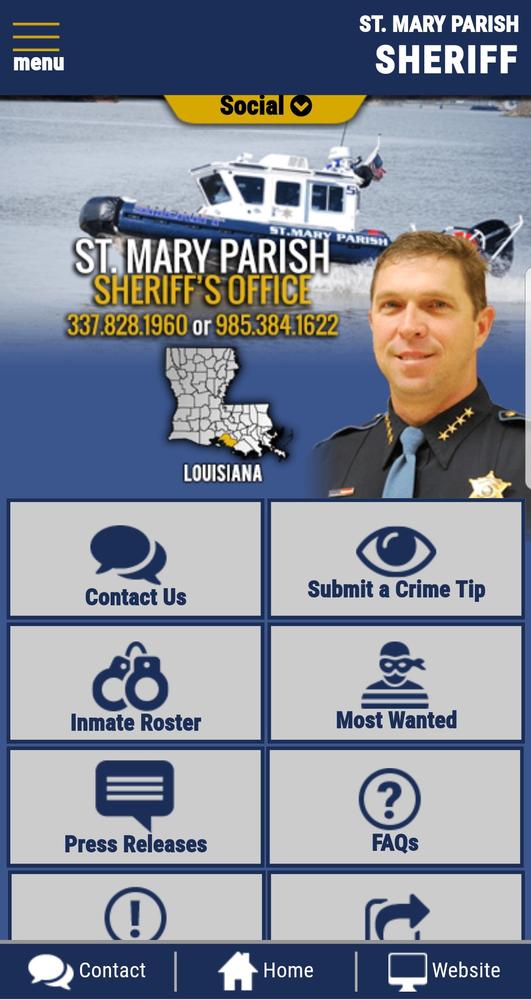 Contact Information:
Traci Landry
Detective Lieutenant
St. Mary Parish Sheriff's Office
Public Information Office
985-354-0714
http://www.stmaryso.com/