---
---
The year 2018 has been an election year that featured 5 total candidates running for the office of Sheriff. The election in November trimmed the field down to two candidates, and the run-off on December 8, 2018, was won by Blaise Smith.
On Tuesday, December 18, Blaise Smith was sworn in as St. Mary Parish Sheriff.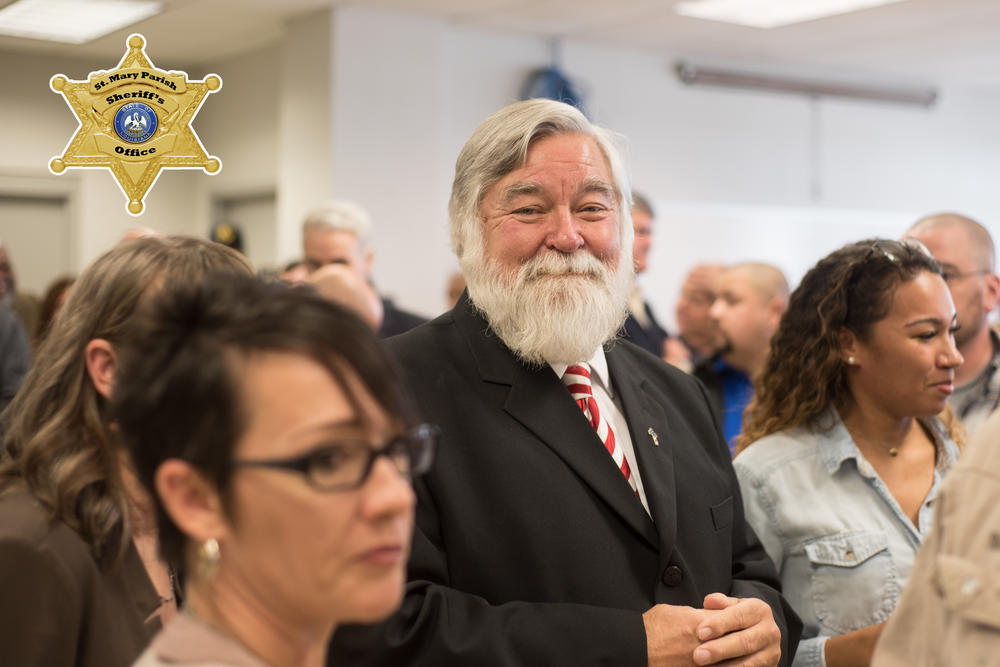 The room on the 4th floor of the Courthouse was packed with people and the excitement was evidenced by smiles on the faces of those in attendance. I watched as news media representatives set up cameras and microphones while friends, family, and employees of the Sheriff's Office waited with anticipation of what the new Sheriff would say as he took the podium and addressed the public for the first time as Sheriff.
Having followed the election closely, there were no surprises. Sheriff Smith spoke of the same themes that ran throughout his campaign; God, the citizens of St. Mary Parish, the mission of the Sheriff's Office, and working together to make a difference in St. Mary Parish.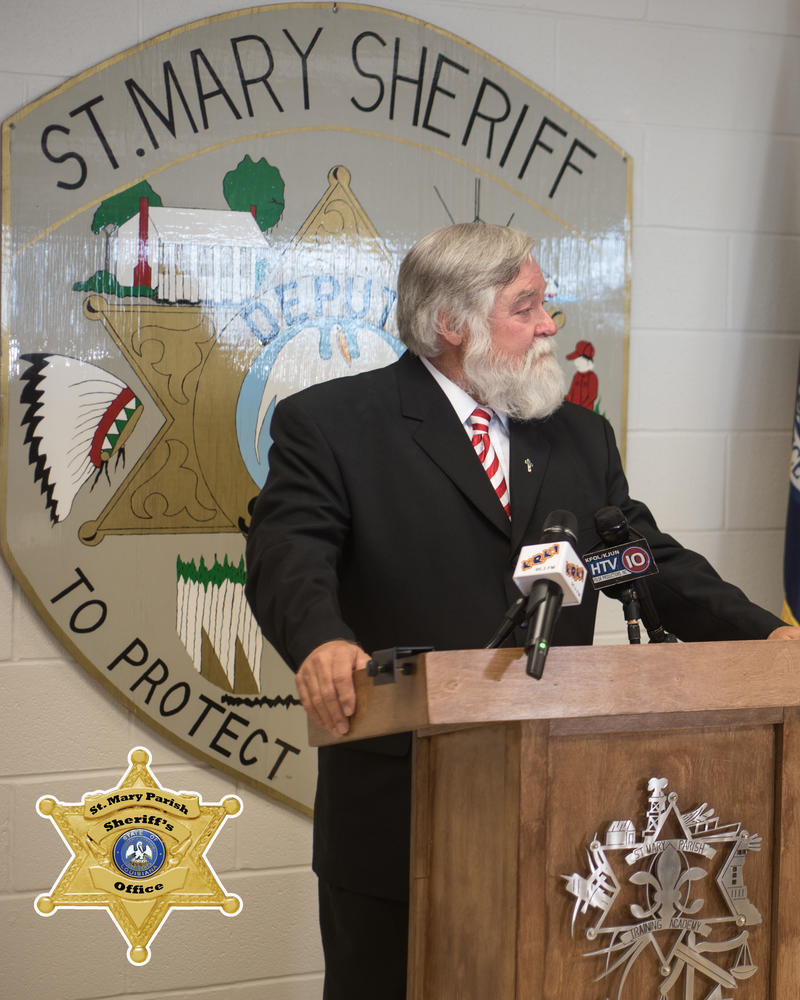 As the Public Information Officer watching my first election in the Sheriff's Office from the inside, I must say that I see one theme emerging from this whole process. It is a theme that I believe seems to be present in other elections at the local, state, and national level when a change in office is the result.
The theme of new beginnings.
Americans generally celebrate elections. We value the opportunity to live in a country where we have the right to be involved in the process of electing our governing officials by voting. Candidates lay out their platforms and appeal to the people for the ability to be able to serve in public office. It can be an arduous process that is stressful, to say the least. But the power of the vote is the final say in the matter, and when the people have spoken, we go forward.
The elected official begins the process of transitioning their platform from ideas to plans. For the citizens, it is time to anticipate new beginnings. It behooves the citizens to be supportive. After all, for elected officials to succeed is to the benefit of all.
This is where we, the citizens of St. Mary Parish, find ourselves now. With a new sheriff, new hope, and anticipation of a new beginning that will result in the fruit of success.
Sheriff Blaise Smith spoke to this process at his ceremony when he said "Whether you voted for me or not, the door is open to you. Even if you didn't vote for me, I'm still your Sheriff. I appreciate you exercising your right to vote, but I will treat you as if you voted for me."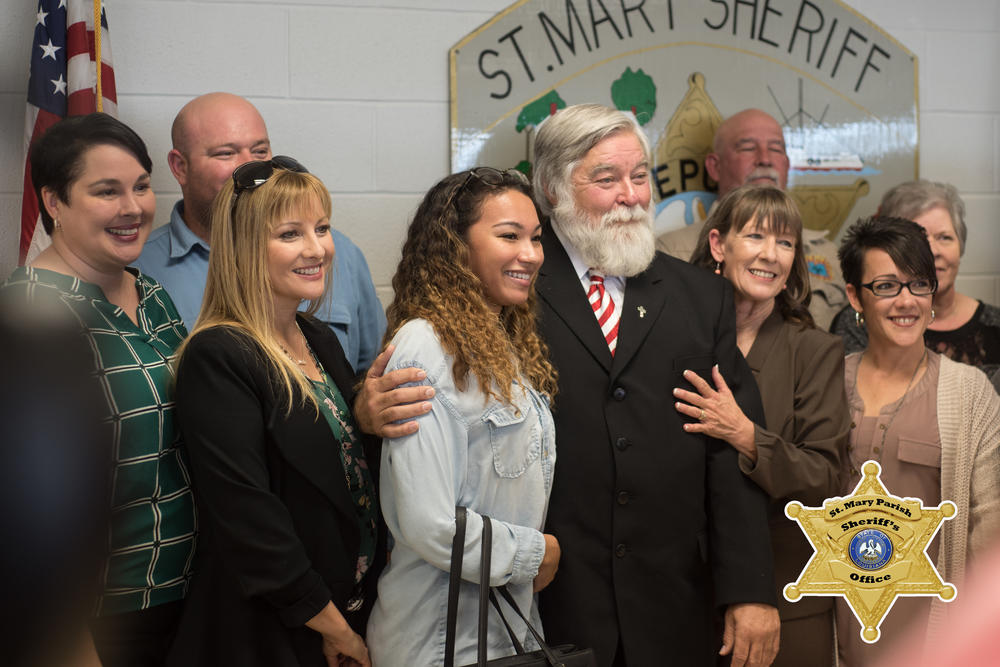 I believe these words of encouragement from our new sheriff help to lay out the first part of his plan for St. Mary Parish. These words encourage unity which is of paramount importance to any group of people attempting to accomplish big things in life. The words of positivity and encouragement were sweet to my ears as I watched this important ceremony play out in front of me yesterday.
New beginnings.
Maybe even better is the fact that we all as citizens of St. Mary Parish get to play a role in the plans. Together we can work to make our parish better. Together we can support each other as we take our first steps forward from this point.
As for me, I'm looking forward to seeing what the coming weeks and months have for us in St. Mary Parish.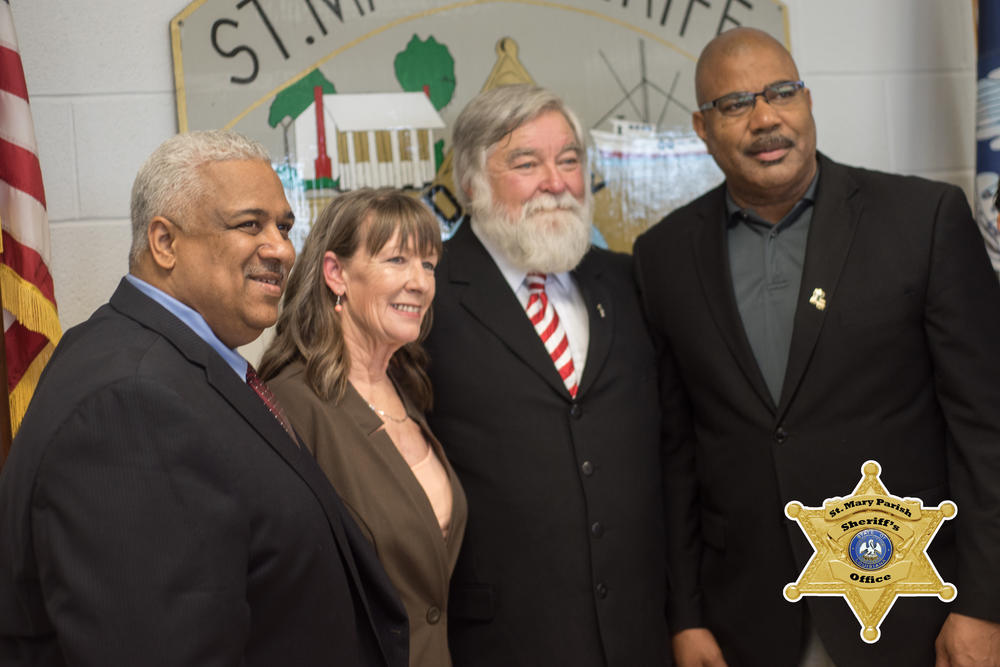 Contact Information:

David Spencer
Public Information Officer
St. Mary Parish Sheriff's Office
pio@stmaryso.com
---
For the 20th year, the St. Mary Parish chapter of Mothers Against Drunk Driving honored law enforcement officers for their work in keeping the roads and highways of St. Mary Parish safe.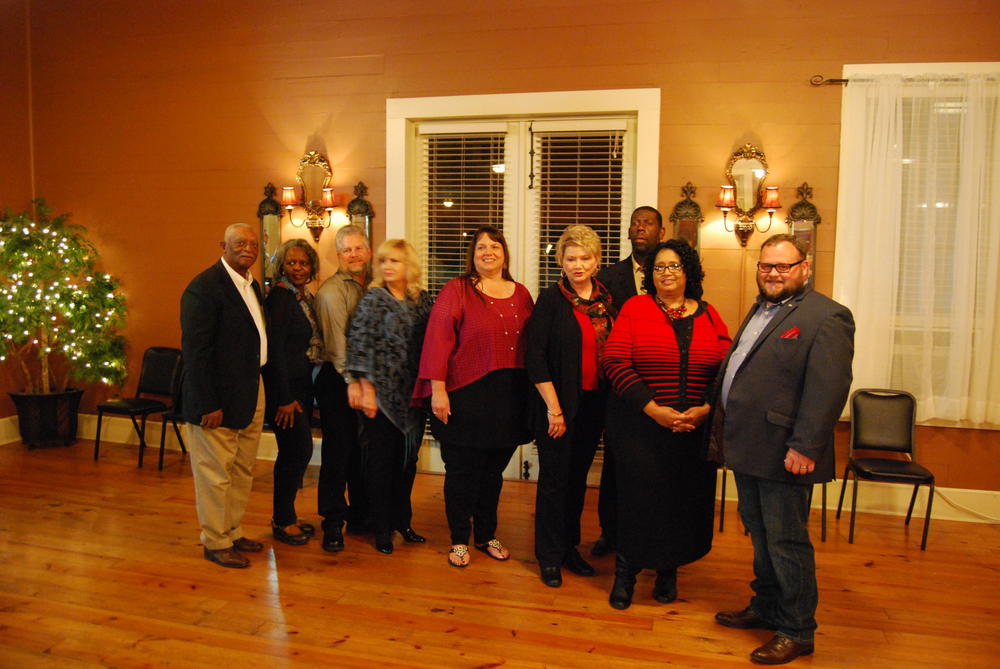 MADD St. Mary Chapter Board Members
MADD board member Jacki Ackel said the group found their direction those 2 decades ago with the help of leaders from within the criminal justice system. St. Mary MADD created a Victim Impact Panel, a program to help drunk and drugged driving offenders recognize and internalize the lasting and long-term effects of substance-impaired driving.
Guest speaker, former St. Mary Parish Sheriff David Naquin, spoke about the impact MADD has had on St. Mary Parish over the years. He recounted the story of the boy saving stranded starfish by throwing them one by one back into the ocean. When the boy was told there was no way he could save them all he replies, "It made a difference for that one."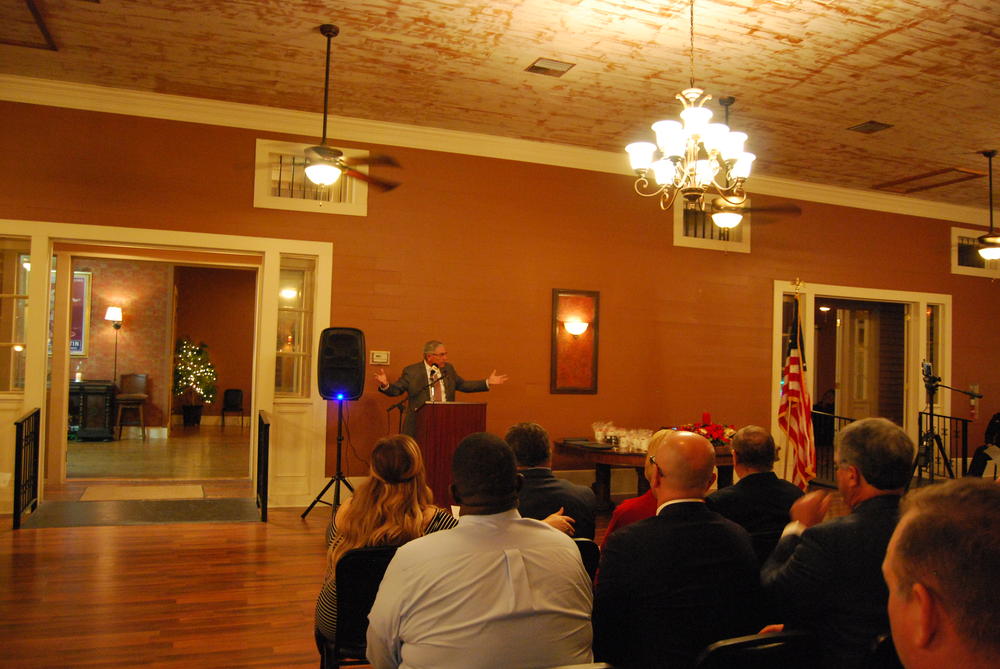 Guest Speaker, Former St. Mary Parish Sheriff David Naquin
Since its inception in St. Mary Parish, MADD has tracked drunk and drugged driving arrests. St. Mary Parish law enforcement agencies have made a total of 4,568 DWI arrests in those 20 years. 187 of those were made over the last year. That number is up by 25 from the previous year.
Helping to make a difference for the parish from the St. Mary Parish Sheriff's Office are Lieutenant Mathew Moore and Sgt Dustin Kennedy who were presented with the TOP COP award for the Sheriff's Office. Over the last year, Moore and Kennedy each made 6 arrests on the charges of operating a vehicle while intoxicated. Overall, Sheriff's Office deputies took a total of 56 suspected drunk drivers off the road. 50 were 1st offenses and 6 were arrested for 2nd offense drunk driving.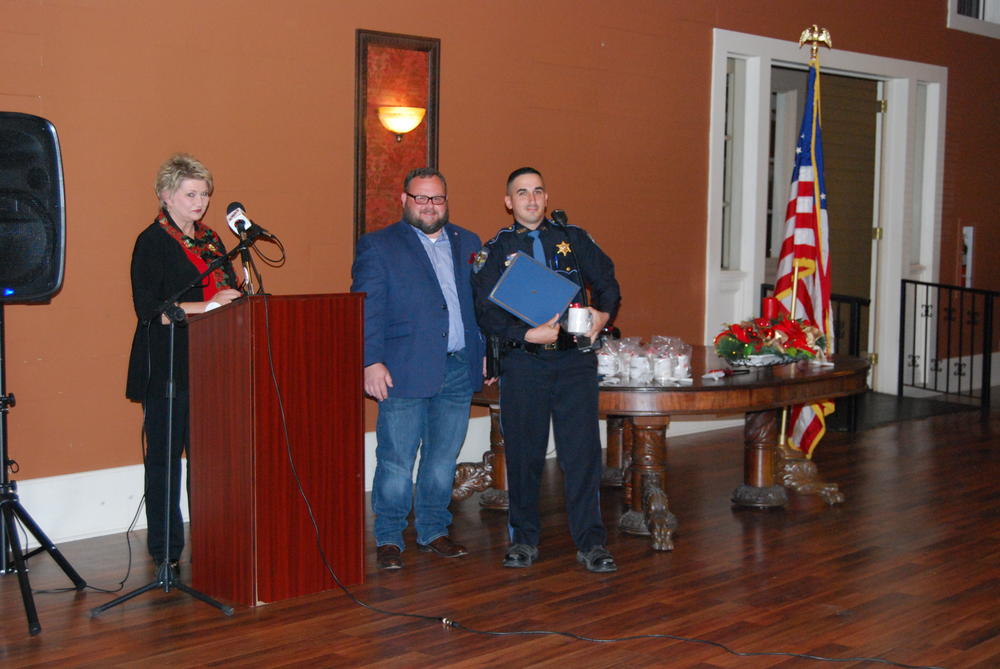 Board Member Scott Berry presents Lieutenant Mathew Moore with the Top Cop Award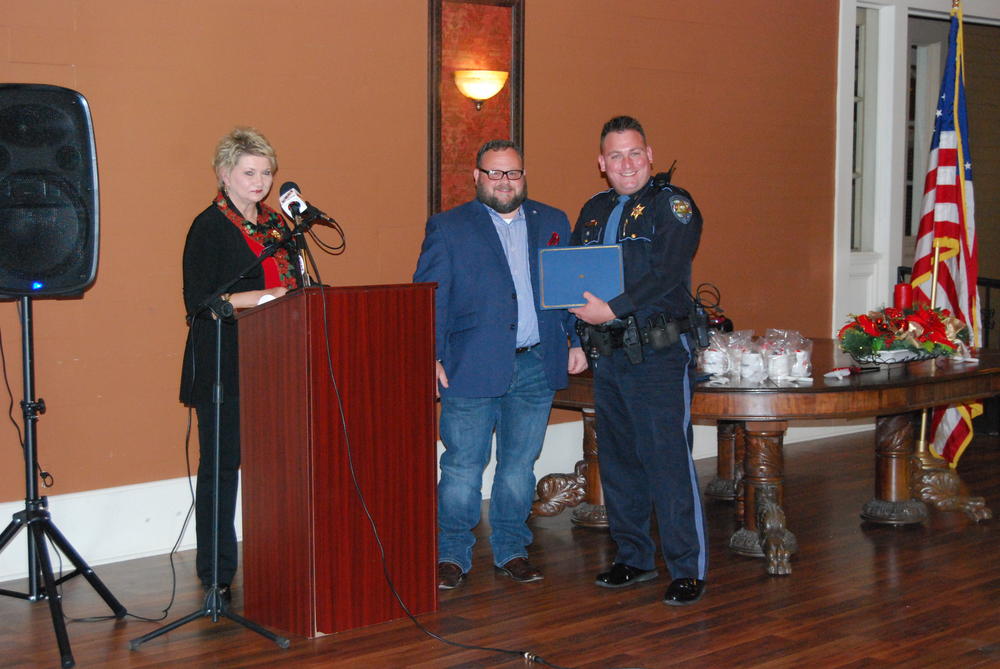 Board Member Scott Berry presents Sergeant Dustin Kennedy with the Top Cop Award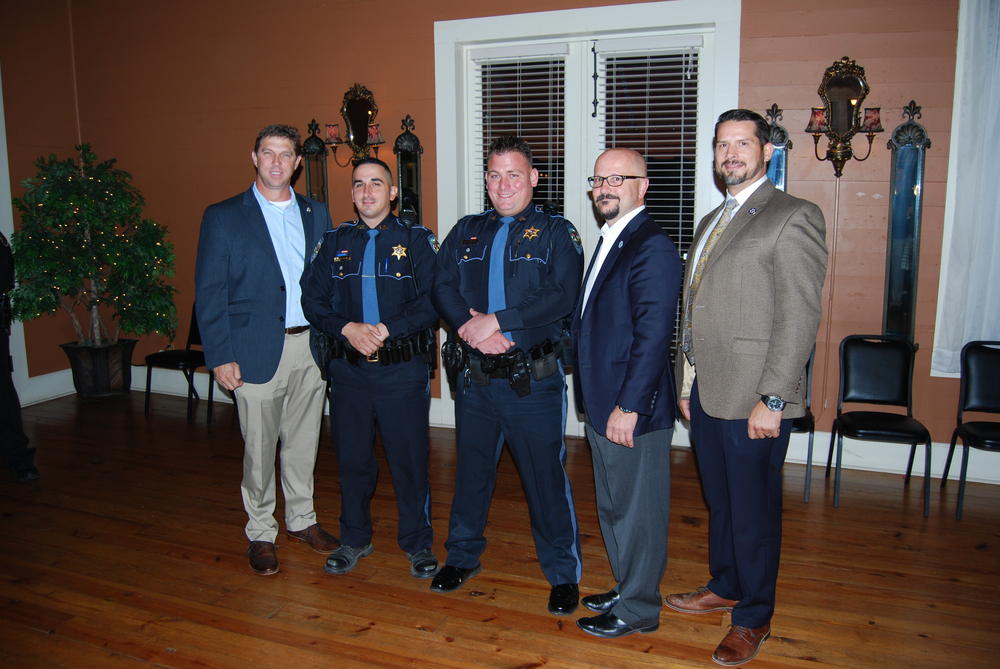 Chief Deputy Scott Anslum, Parish President David Hannagriff, and Major John Kahl, Jr. join Lt Moore and Sgt Kennedy
St. Mary Parish Sheriff's Office Chief Deputy Scott Anslum was also recognized for his leadership contributions and support of deputies in their work to keep impaired drivers off the roads.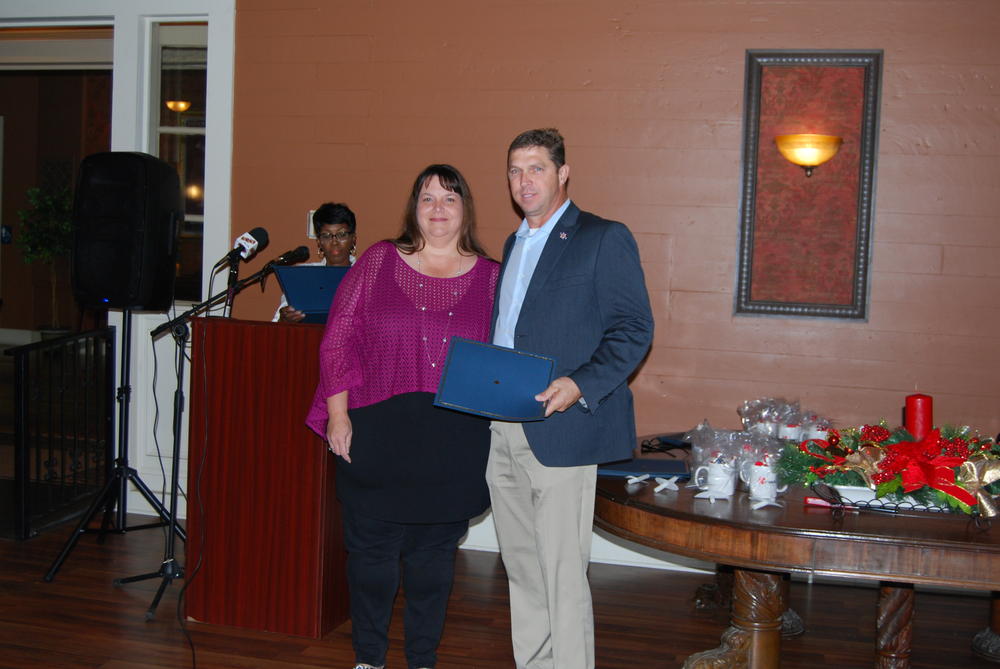 Chief Deputy Scott Anslum
The St. Mary Parish Sheriff's Office joined Louisiana State Police, Chitimacha Tribal Police Department, Morgan City, Patterson, Berwick, and Franklin Police Departments at the Lamp Post in Franklin for the MADD Top Cop ceremony held Thursday evening, November 30, 2017.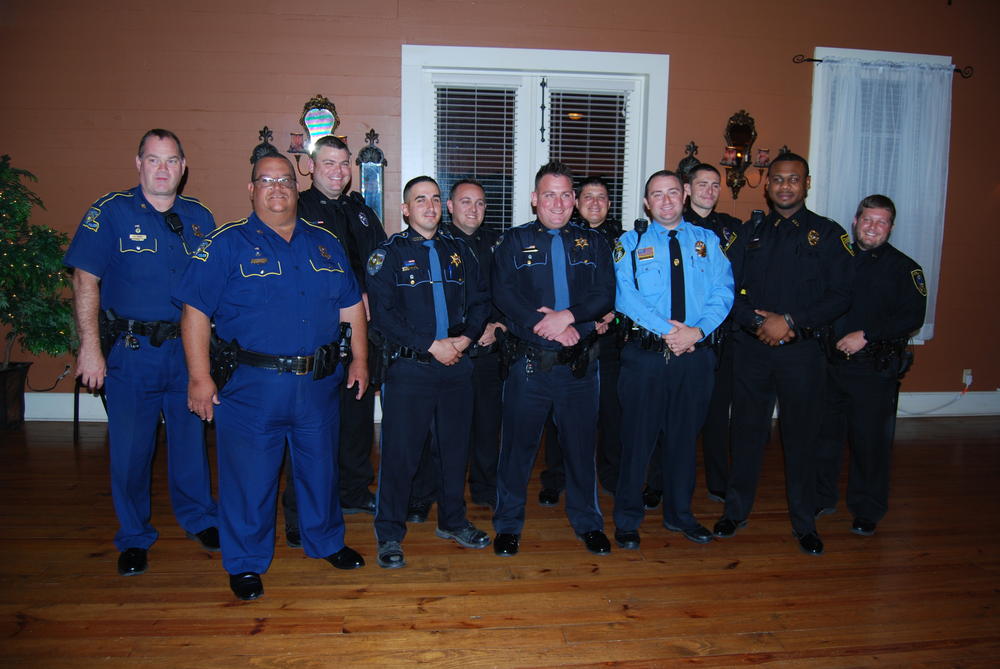 Traci Landry
Detective Lieutenant
St. Mary Parish Sheriff's Office
Public Information Office
985-354-0714
---
Above, Detective Chris Crappell (with coffee) and K-9 Buddy at a morning briefing in the squad room. Below, K-9 Buddy patiently plays dress up with his partner's daughters.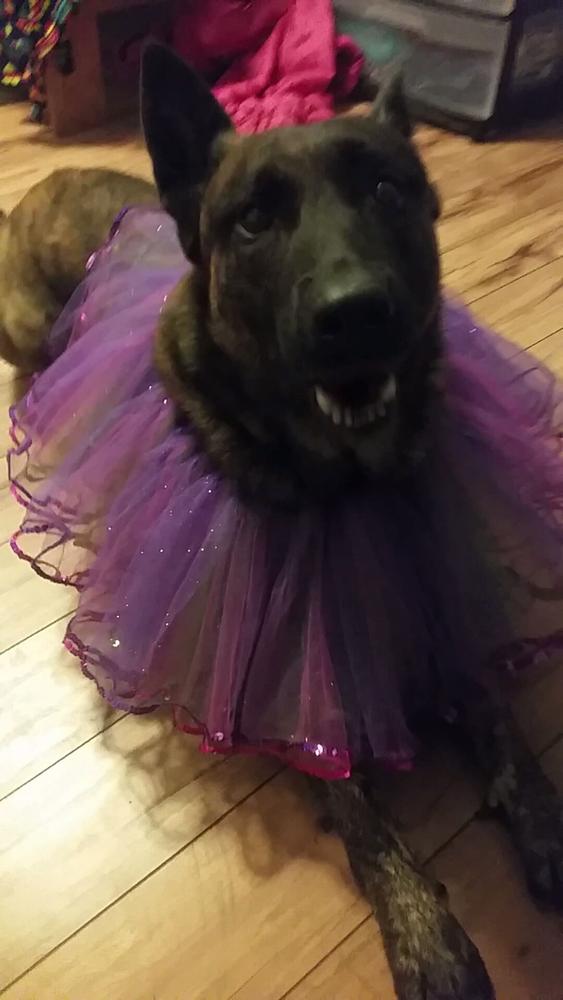 Becoming a K-9 handler is a lifestyle change that affects more than just the deputy taking on the responsibility of a police dog. St. Mary Parish Sheriff's Office K-9 handler Detective Chris Crappell explains.
My 6-year-old daughter, who is a big help and had learned to speak Dutch like Buddy, says, "It's good to live with Buddy because if a bad guy comes in, he will bite him. Buddy eats dog food and only at night because he doesn't eat at daytime. Buddy got a new leash. "At bath time, we bathe Buddy outside because he will get the whole place all hairy. Buddy has fun at the camp. He rides in a cage when we go to vacation. When we went to dig for diamonds (in Arkansas). Buddy watched over everybody for bad guys. He's like a 5-year-old and that's like me but I'm 6. When you throw Buddy's toy you have to say aport and not fetch because he's trained in Dutch." "He's a good protector but he's mostly fun. When he goes outside he plays with us."
My 11-year-old daughter says, "Whenever we first got buddy, you couldn't play with him because he's still getting used to you. He is our family but we still have to be careful because he is a cop dog. He's like a brother. He protects every good person. I think if more cops have dogs it could be
easier to find more drugs and stop more bad guys. He gets excited when we let him out. He's the best dog ever."
My 2-year-old daughter says, "I like to hug him".
I hope you enjoyed a look into our life with Buddy. In closing, I'd like to thank everyone for the care and support you give me and Buddy as we work to fight crime.
- Detective Chris Crappell
---