UPDATED April 25, 2018 - Juvenile Arrested in Connection to Bayou Vista Burglaries - http://stmaryso.com/press_view.php?id=1316
Over the weekend, deputies responded to 5 reports of vehicle burglaries on Middle Road, David Road, and Field Road in Bayou Vista. Deputies found that the suspect(s) went into unlocked vehicles overnight. Detectives are working with residents and businesses in the area to solve the crimes. Detectives are asking anyone with video cameras on those streets or in the surrounding areas to review their video footage for subjects in those areas between 8:00 pm, Saturday, April 21, 2018 and 7:00 am Sunday, April 22, 2018.
Anyone who has seen suspicious activity or who may have information on the crimes is urged to call the Mary Parish Sheriff's Office at 985-384-1622 or 337-828-1960. Information including pictures and videos can be submitted through the St. Mary Parish Sheriff's Office website, www.stmaryso.com, and app. Download the app here.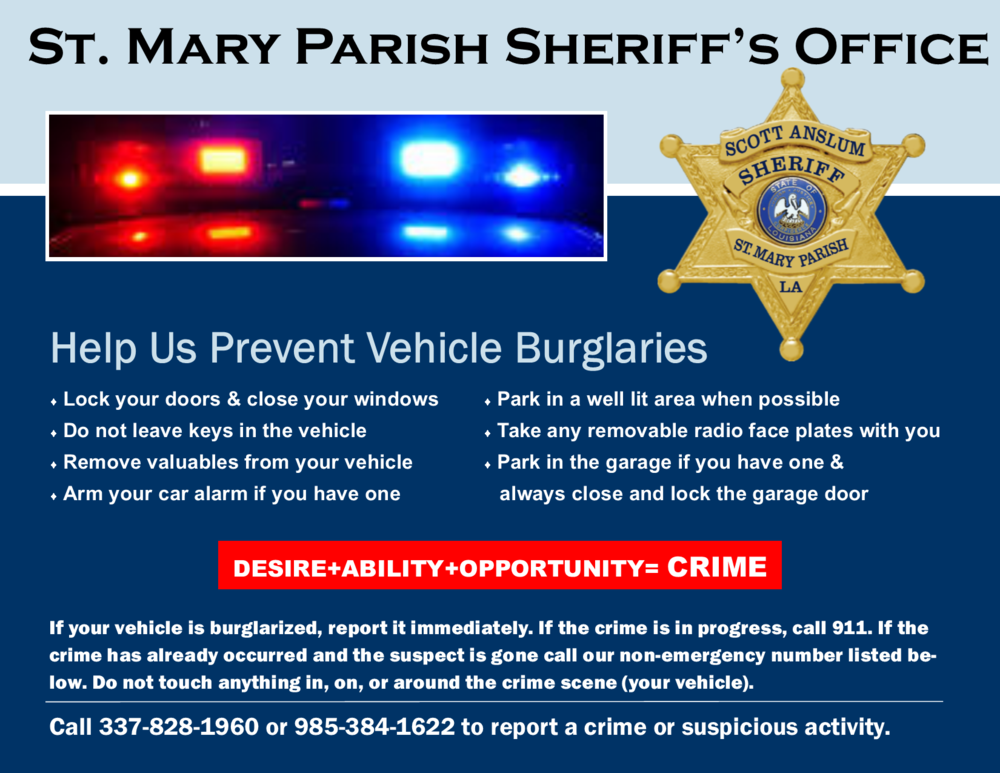 Contact Information:
Traci Landry
Detective Lieutenant
St. Mary Parish Sheriff's Office
Public Information Office
985-354-0714
http://www.stmaryso.com/