Sheriff's Scholarship Goes to Berwick High School Student
05/07/2018
The St. Mary Parish Sheriff's Office once again received some outstanding applications for the Louisiana Sheriff's Association Scholarship. The 2018 St. Mary Parish Sheriff's Scholarship goes to Berwick High School student Nicole Johnson.
The Louisiana Sheriffs' Association Honorary Membership Program awards $500 in scholarships in each of the state's 64 parishes. The goal of the program is to provide assistance to worthy Louisiana students in furthering their education and training with resources made available through the program. St. Mary Parish Sheriff Scott Anslum along with the Sheriffs of Louisiana consider this scholarship program an investment in the future.
Sheriff Anslum presented the scholarship certificate to Johnson at Berwick High School's award ceremony this morning. Johnson will attend Xavier University of New Orleans this fall. Her major field of study is ­­­­­anesthesiology.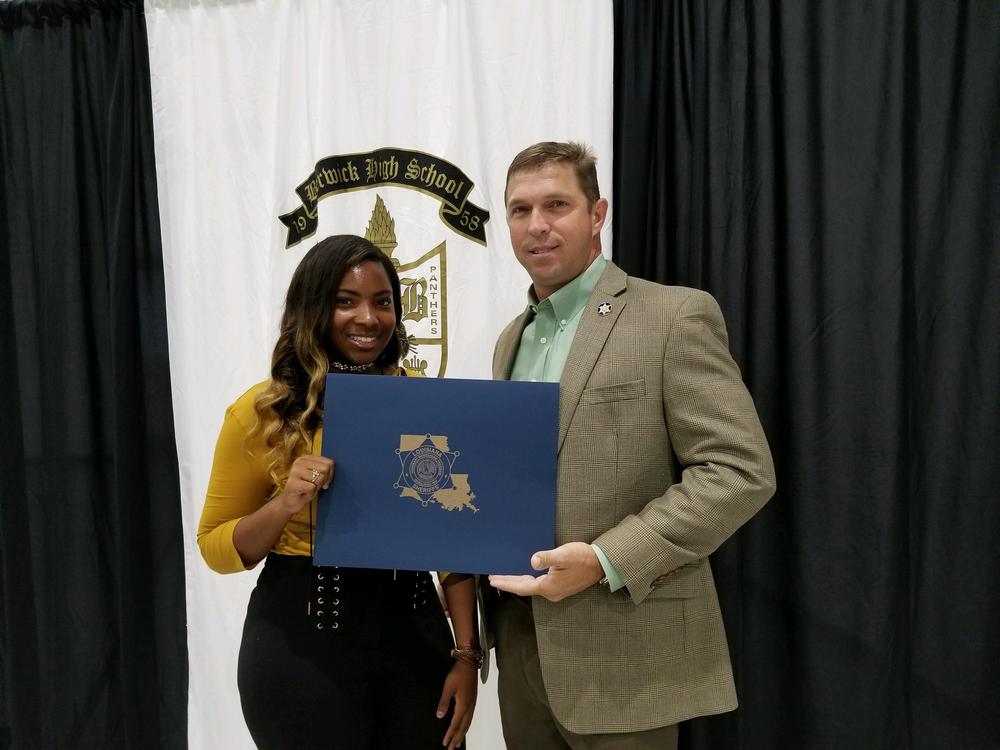 Scholarship Award Recipient Nicole Johnson and Sheriff Scott Anslum
Contact Information:
Traci Landry
Detective Lieutenant
St. Mary Parish Sheriff's Office
Public Information Office
985-354-0714
http://www.stmaryso.com/