Press Release - Fourth escaped inmate caught
06/04/2018
St. Mary Parish Sheriff Scott Anslum reports the apprehension of the last escaped inmate, Elias Todd
Sheriff Scott Anslum reports that St. Mary Parish Sheriff's Office deputies continued to work a number of leads that lead deputies to the capture of Elias Todd. Through this investigation, deputies learned that Todd had been dropped off at a residence in Berwick. Deputies secured a search warrant for the residence and located Todd.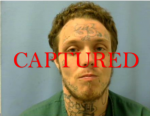 Elias Todd
Sheriff Anslum would like to thank the citizens of St. Mary Parish for their continuous support throughout this investigation as a number of tips were submitted. Sheriff Anslum also wants to, again, thank all agencies that assisted throughout this investigation.
Lastly, Sheriff Anslum wants to express how proud he is of the hard working men and women of the St. Mary Parish Sheriff's Office. They worked tirelessly to bring these four men to justice.
Contact Information:
Whytley Jones Detective
St. Mary Parish Sheriff's Office
Detectives Section
985-354-0704
pio@stmaryso.com
http://www.stmaryso.com/