St. Mary Parish Sheriff's Office Receives CALEA Reaccreditation
08/03/2018
On July 28, 2018, the St. Mary Parish Sheriff's Office received its first CALEA reaccreditation award. The award was presented by the CALEA Chairman, Lafourche Parish Sheriff Craig Webre, and Executive Director W. Craig Hartley Jr. The CALEA award is for four years, and the agency is required to maintain continuous compliance throughout the award year.
CALEA was formed in 1979 when four organizations, the National Sheriff's Association, International Association of Chiefs of Police, National Association of Black Law Enforcement Executives, and Police Education Research Foundation joined together to create an accreditation program to certify that law enforcement agencies meet professional standards of excellence in delivering public safety services.The CALEA Accreditation Programs are designed to improve the delivery of public safety services by: maintaining a body of standards, developed by public safety practitioners, covering a wide range of up-to-date public safety initiatives; establishing and administering an accreditation process; and recognizing professional excellence. The standards established through this commission covers the agency's functional capacity, professionalism, personnel, operations, and logistics; all of which are reviewed, modified, and enhanced as the field of law enforcement continues to develop.
With this reaccreditation award, the St. Mary Parish Sheriff's Office continues to be among the four sheriff's offices in Louisiana that holds CALEA accredited status. Sheriff Scott Anslum thanks the deputies for their hard work and continuing to believe in the vision he has to continue to improve and build the office as we provide a professional law enforcement service to our community.
More information on CALEA can be found at www.calea.org.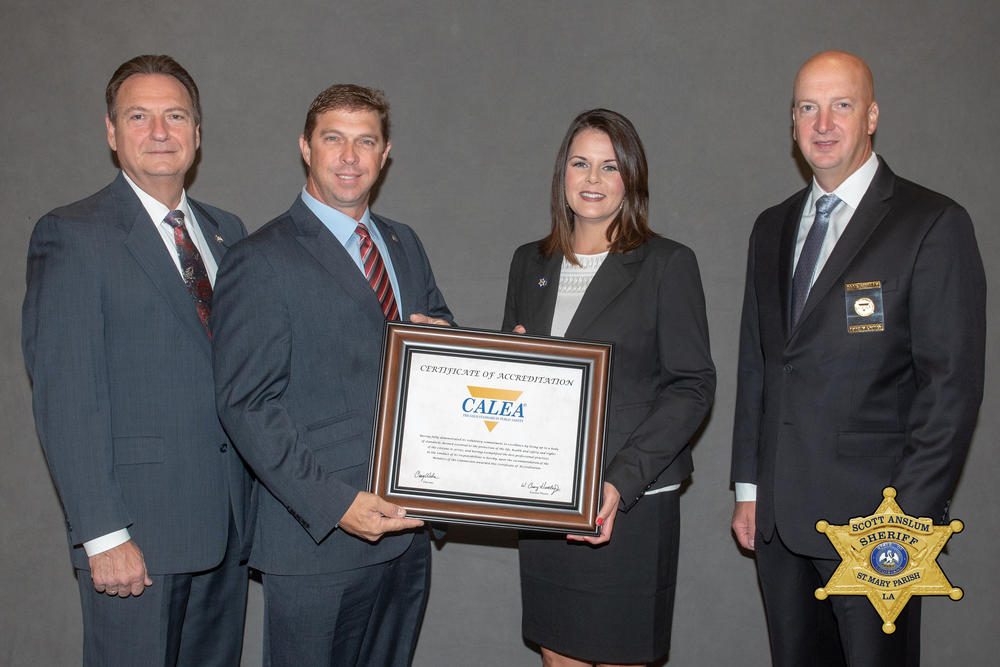 Pictured from left to right: Chairman and Lafourche Parish Sheriff, Craig Webre, Sheriff Scott Anslum, Captain Stephanie Duhon, and Executive Director, W. Craig Hartley, Jr.
Contact Information
Public Information Officer
St. Mary Parish Sheriff's Office
985-384-1622
pio@stmaryso.com
http://www.stmaryso.com