Narcotics Detectives Arrest 1 For Distribution of THC
08/07/2018
St. Mary Parish Scott Anslum advises that Narcotics Detectives Arrest 1 for Distribution of THC
NARCOTICS SECTION
Clifford Lejeune, 34, 4835 Arnold Road, Gueydan, LA was arrested on August 7, 2018, at 3:23 pm for possession of methamphetamine and possession of drug paraphernalia.
Victor Pisani Sr., 39, 1269 Delmar Avenue, Bayou Vista, LA was arrested on August 7, 2018, at 5:26 pm for possession of Schedule I THC (Tetrahydrocannabinol) with intent to distribute and violation of controlled dangerous substance drug-free zone.
St. Mary Parish Sheriff's Office Narcotics Section detectives along with the Morgan City Police Department Narcotics Division and Louisiana Alcohol and Tobacco Control (ATC) Agents executed a search warrant at Cloud Busters Vape Shop in Bayou Vista. The warrant stems from an investigation initiated after narcotics detectives learned that the business owner, Pisani was purchasing and selling CBD hemp flower and CBD gummies. Through the investigation, detectives obtained a pack of the CBD hemp flower which was sent to a crime lab and tested positive for marijuana/THC. During the search of the business, which is located within 2,000 feet of a local school, detectives located several packages of CBD hemp flower and CBD gummies ready for sale. The items have an estimated street value of $2,666. Detectives also learned that several of the packages were listed on the ATC cease and desist warning notice list.
Detectives made contact with Lejeune as he exited Cloud Busters Vape Shop. Detectives explained the search warrant to Lejeune and he gave them consent to search his person. Detectives located methamphetamine and a glass pipe in Lejeune's pocket.
Lejeune and Pisani were transported to the St. Mary Parish Law Enforcement Center for booking. No bail is set for Lejeune. Pisani was released on a $7,500 bond.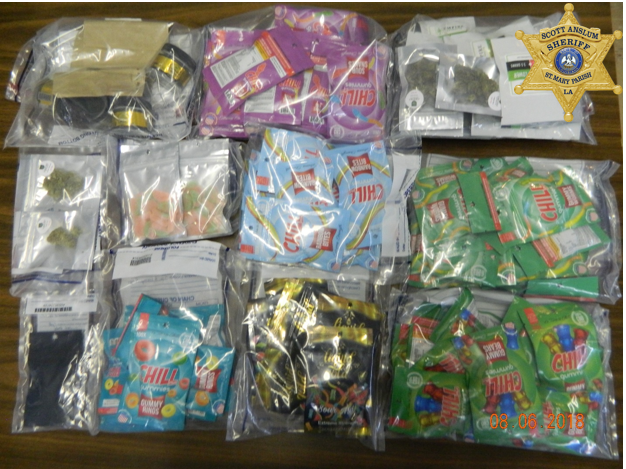 Public Information Officer
St. Mary Parish Sheriff's Office
985-354-0714
pio@stmaryso.com
http://www.stmaryso.com/