School Supplies Drive
11/01/2018
St. Mary Parish Sheriff Joins With Retired Marshal for School Supplies Drive
Retired Marshal David McCoy of the Magnolia State Peace Officer Association Acadiana Chapter understands the need for students to have the necessary school supplies in order to be successful in the classroom. McCoy helped to organize a school supply drive through the Magnolia State Peace Officer Association as a way to make sure that students in all the schools in St. Mary Parish would have the classroom tools they need during the 2018-19 school year.
"This is done for all the students in St. Mary Parish, regardless of what school they attend," McCoy said as he helped fill boxes with pens, pencils, crayons, glue, and other supplies donated by people during the drive. The drive was set up through the Walmart in Franklin, LA. McCoy said some people opted to donate money to the drive. "We went into Walmart and spent all of it on school supplies, too," he added.
"The managers of the Walmart locations in both Franklin and Bayou Vista have been helpful in events like this," said Sheriff Scott Anslum, underscoring the community involvement of the businesses.
According to McCoy and Sheriff Anslum, several agencies came out to help in the school supply drive. Magnolia State Peace Officer Association President Terrance Moore, member Allen Brooks, Sheriff Scott Anslum with the St. Mary Parish Sheriff's Office, Franklin Fire Chief Chuck Bourgeois, Franklin Police Chief Tina Thibodeaux, Third Warden Marshal Carla Weidenboerner, and Charenton Fire Chief Billy Moore, and Rose McCoy were among the personnel spearheading the drive.
The school supplies were boxed up to be distributed to the schools for students in need of them.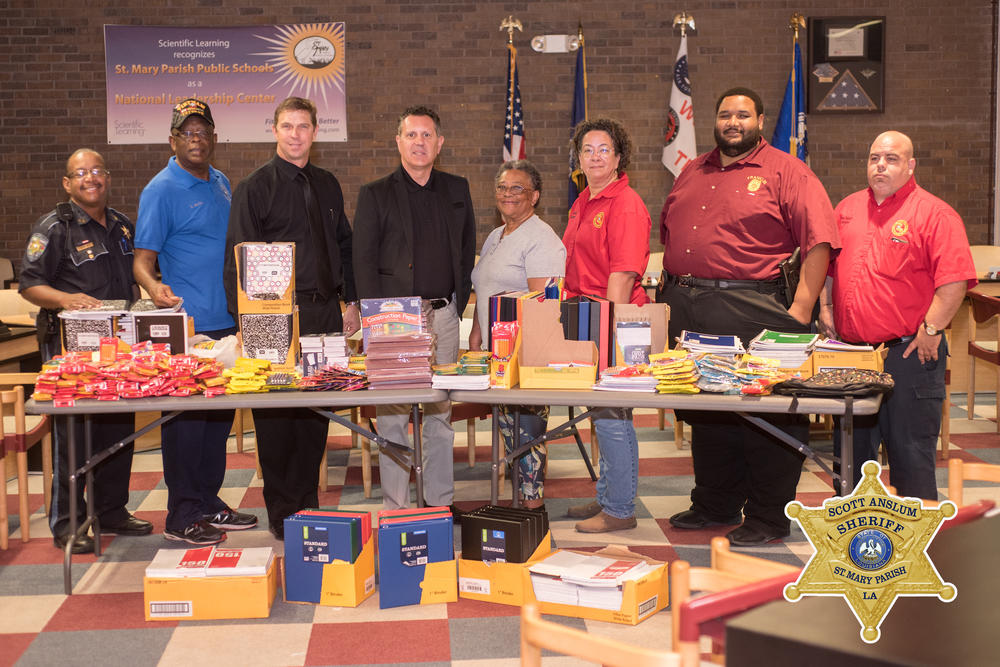 Contact Information:

Public Information Officer
St. Mary Parish Sheriff's Office
985-384-1622
pio@stmaryso.com
http://www.stmaryso.com/