Sheriff Blaise Smith sworn in for first full term.
07/01/2020
St. Mary Parish Sheriff Blaise Smith is sworn in for his first full term.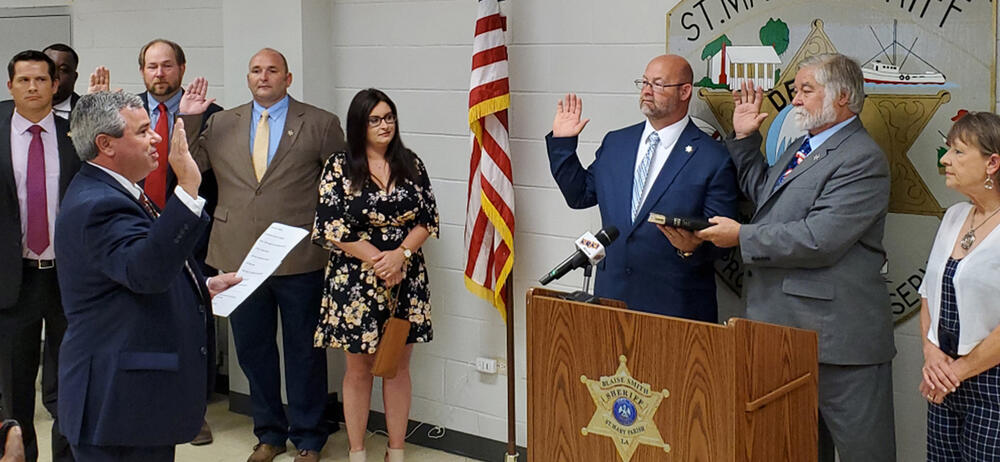 St. Mary Parish Sheriff Blaise W. Smith was sworn in today to begin his first full elected term. Sheriff Smith, surrounded by deputies and employees of the SMPSO, family, and friends was sworn in by Tony Saleme at the St. Mary Courthouse in Franklin.
Sheriff Smith first became elected as Sheriff of St. Mary Parish in December of 2018 when he defeated Scott Anslum in the run-off of a special election. Sheriff Smith served as elected interim Sheriff from December of 2018 and won the 2019 election in November against challengers Todd Pellerin and Frank "Boo" Grizzafi. Today, July 1, marks the first day of his full 4-year term as Sheriff.
Sheriff Blaise Smith's interim term was characterized by improvements that were first mentioned to the public before the election then made a reality during the months to follow. Upgrades to the St. Mary Parish Law Enforcement Center facility, as well as changes to the operations at the LEC, acquisition of much-needed units for patrol, expansion of the K9 division from 1 to 5 K9s and handlers, re-establishment of the criminal exchange program with nearby agencies, and fiscal responsibility are some examples of the marked progress in his first term.
Sheriff Smith, known as a "hands-on" type of Sheriff, said that he will continue to go on patrol with the deputies and work with them. His plans are to carry on with the same paths of improvements that he has put into motion.
"We want to continue on the path we are on because we have had such a good response from the public," he said during an interview after the ceremony. "The most important thing is to talk to people in the community. People need to have a voice, and I want to be their voice."
When asked about the fiscal responsibilities for the upcoming term, he referred to the success of controlling excessive spending which will continue.
"Since I took office, it was the first time in 23 years that we did not have to borrow money, so we are going to continue on that path, doing what we are doing. We control the spending and we don't have any wasteful spending going on now. I am responsible for the taxpayer's money and I want to spend it accordingly."

Public Information Officer
St. Mary Parish Sheriff's Office
985-384-1622
pio@stmaryso.com
http://www.stmaryso.com/