COVID-19 Coronavirus Information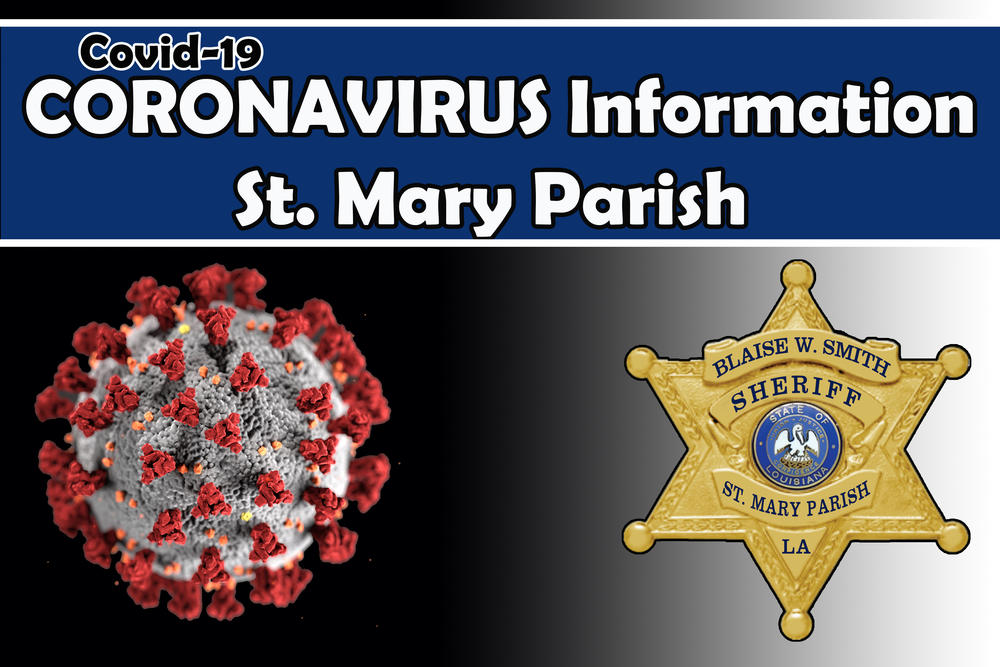 Sheriff Blaise Smith advises the public that this page has been set up to contain all the trusted websites for the latest news on the coronavirus as well as updated St. Mary Parish information.
_____________________________________________________________________________________________________________________
In St. Mary Parish, there have been 22 cases of coronavirus.
(Source: Louisiana Department of Health, updated at noon on 3/31/20.)
Health experts are still learning the details about how this new coronavirus spreads. Other coronaviruses spread from an infected person to others through:
Through respiratory droplets produced when coughing and sneezing
Close personal contact
Touching an object or surface with the virus on it, then touching your mouth, nose, or eyes
____________________________________________________________________________________________________________________________________
**3/24/2020 St. Mary Parish President statement: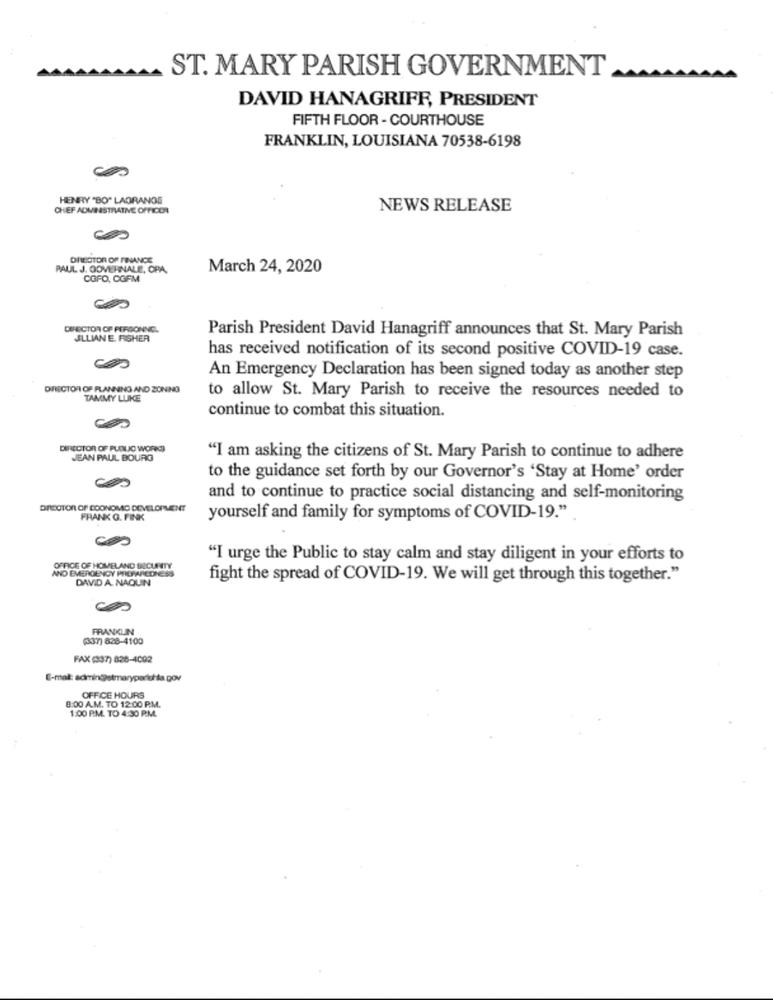 The Governor's "Stay At Home Order"
***UPDATE***
3/30/20
The Governor's Order has been extended through April 30, 2020.
Explanation for the Governor's Stay at Home Order
For businesses, the new Stay at Home order has limits on the following:
All places of public amusement, whether indoors or outdoors, including but not limited to, locations with amusement rides, carnivals, amusement parks, water parks, trampoline parks, aquariums, zoos, museums, arcades, fairs, pool halls, children's play centers, playgrounds, theme parks, any theaters, concert and music halls, adult entertainment venues, racetracks, and other similar businesses.
All personal care and grooming businesses, including but not limited to, barbershops, beauty salons, nail salons, spas, massage parlors, tattoo parlors, and other similar businesses.
All malls, except for stores in a mall that have a direct outdoor entrance and exit that provide essential services and products as provided by the Cybersecurity & Infrastructure Security Agency (CISA) guidelines.
Businesses closed to the public as listed in the order can conduct necessary activities such as payroll, cleaning services, maintenance or upkeep as necessary.
Any business not covered by the guidance from the CISA discussed in Section 3 of the order and not ordered to temporarily close must reduce operations to continue with minimum contact with members of the public and essential employees, while requiring proper social distancing, adhering to the 10-person limitation on gathering size.
Early learning centers and child care facilities adhering to the guidance issued by the Louisiana Department of Education and Office of Public Health may continue to operate.
Examples of Essential Worker Functions under the Cybersecurity & Infrastructure Security Agency (CISA) guidelines include:
Healthcare workers and caregivers
Mental health and Social Service workers
Pharmacy employees
Workers supporting groceries, pharmacies and other retail sales of food and beverage products
Restaurant carryout and quick-serve food operations and food delivery employees
Farmworkers
Electricity and Utility Industry Employees
Critical Manufacturing Employees (medical supply chains, energy, transportation, food, chemicals)
Petroleum, Natural and Propane Gas Workers
Transportation and Logistics Workers
Communications and Information Technology Employees
Websites for updated coronavirus information:
Louisiana Department of Health www.ldh.la.gov/coronavirus
St. Mary Parish Government http://www.stmaryparishla.gov/
___________________________________________________________________________________________________________________________________________________
St. Mary Parish School Board information on meals for students.
***UPDATE*** (3.27.20/10:15 am) : Meals-to-you replaces grab-and-go www.stmaryk12.net
All parents/ guardians will need to complete an online application form and submit it by Monday, March 30th. Access to the online form is available at the following link: https://mealstoyou.org/emergency-meals-to-you-application/.
___________________________________________________________________________________________________________________________________________________
16th judicial court information on operations during this time
https://www.16jdc.org/uploads/1/7/7/3/17736081/16_jdc_court_closure_covid-19_pandemic_2020.03.16.pdf?fbclid=IwAR0kG8A8BiwalKJ48yu8tsXQlu6veXK34yzDDBckjk-5ygDSkNmTm-Zf3D8
Ochsner Hospital Information
https://www.ochsner.org/coronavirus
Governor John Bel Edwards' office webpage on Coronavirus information
https://gov.louisiana.gov/index.cfm/page/89
Centers for Disease Control and Prevention (CDC)
www.coronavirus.gov
President Trump's Guidelines: 15 days to slow the spread of COVID-19
https://www.whitehouse.gov/wp-content/uploads/2020/03/03.16.20_coronavirus-guidance_8.5x11_315PM.pdf
Louisiana Workforce Commission: Information for workers who have been impacted by COVID-19
http://www.laworks.net/PublicRelations/COVID_19_Information.asp
Department of Motor Vehicle Information:
https://www.expresslane.org/Pages/default.aspx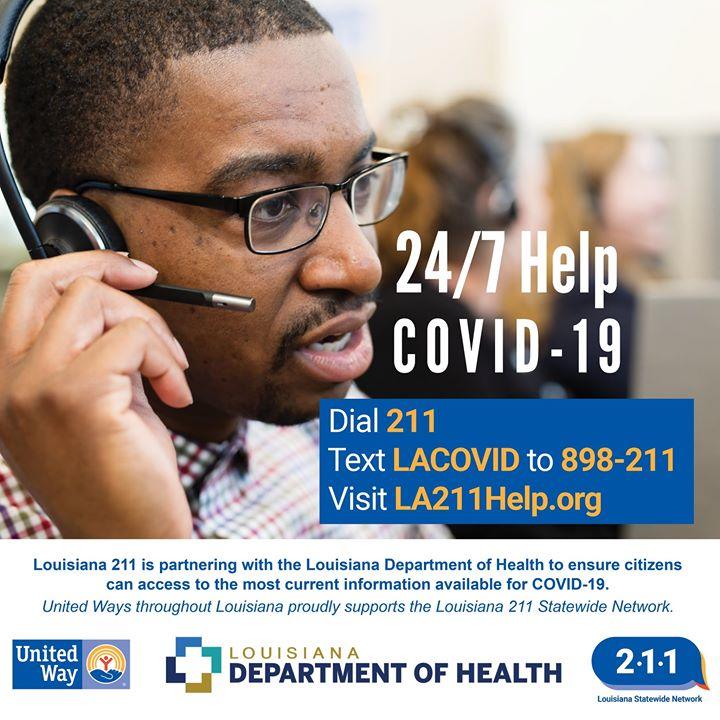 Public Announcements:
All events of 50+ people are halted per Governor Edwards. President Trump further recommends gatherings be limited to 10 or less.
All casinos, video poker establishments, bars, gyms, fitness centers, bowling alleys and movie theaters are CLOSED.
Restaurants, cafes and coffee shops are limited to delivery or take-out only.
Personal Health suggestions and practices:
social distancing
washing hands frequently
limiting social gatherings
stay home if they feel sick or show possible symptoms of fever, cough, and difficulty breathing
Mental Health Hotline
If you are concerned about your mental health/anxiety during these times and feel that you need professional care, there is a hotline set up for you. Trained, compassionate counselors are available to speak with and can offer support and direct you to mental health services.
Parishwide Measures:
The St. Mary Parish Sheriff's Gun Range is closed to the public until further notice.
St. Mary Parish Sheriff's Office Civil Lobby located on the 4th floor of the Franklin Courthouse is closed to visitors until further notice.
Citizens are reminded that alternative forms of in-person paying for tickets, fines, and taxes are available.

Call 337-828-6979 to pay fines/tickets with a credit/debit card over the phone.

Tax payment can be made by visiting our website at https://www.stmaryso.com/page.php?id=13 and following the link on the page.
Effective Monday, March 23, 2020, the St. Mary Parish Courthouse will be closed to public access until further notice.
Offices within the courthouse will continue to be staffed in order to continue to provide its respective services to the public. Business may be conducted remotely by phone or electronically with each office through its respective contact numbers, e-mails, websites, or Facebook pages. In addition, access may also be arranged with each office by appointment only.
The offices affected by this are as follows:
St. Mary Parish Government
16th Judicial District Attorney
St. Mary Parish Sheriff
St. Mary Parish Clerk of Court
St. Mary Parish Assessor
Veteran's Office
The Registrar of Voters Offices are closed.
District Court is closed through April 10, 2020.
All parish libraries are closed to the public; however, plans are being made for book drop-off and pick-up. Please contact your local library for details.
All restaurants, cafes, and coffee shops shall cease any on-premises consumption of food or beverages. These establishments may continue take out, drive-thru, and delivery services. Hotel restaurants may continue operations, but only for the service of hotel guests via room service.
All regular curfew times for minors are still in effect.
All religious gatherings should practice social distancing. Some churches have suspended religious services and other activities.
All bars are closed.
All visitation to the parish jail and city jails have been suspended.
City of Morgan City:
City Hall is open for business
All city events have been postponed
City court suspended; offices are still open.
Lake End Park is open.
Curfew for minors 10:00 pm Sunday- Thursday nights, 12:00 am Friday and Saturday nights.
City of Franklin:
City Hall is closed to the public, offices are staffed.
Utility Bill payment by drop box.
Recreation Centers are closed
Curfew for minors 10:00 pm Sunday- Thursday nights, 12:00 am Friday and Saturday nights.
City of Patterson:
City Hall is open for business.
Mayor's court closed for 2 months.
Curfew for minors 10:00 pm Sunday- Thursday nights, 11:00 pm Friday and Saturday nights.
** Curfew added 3/31/2020. See below...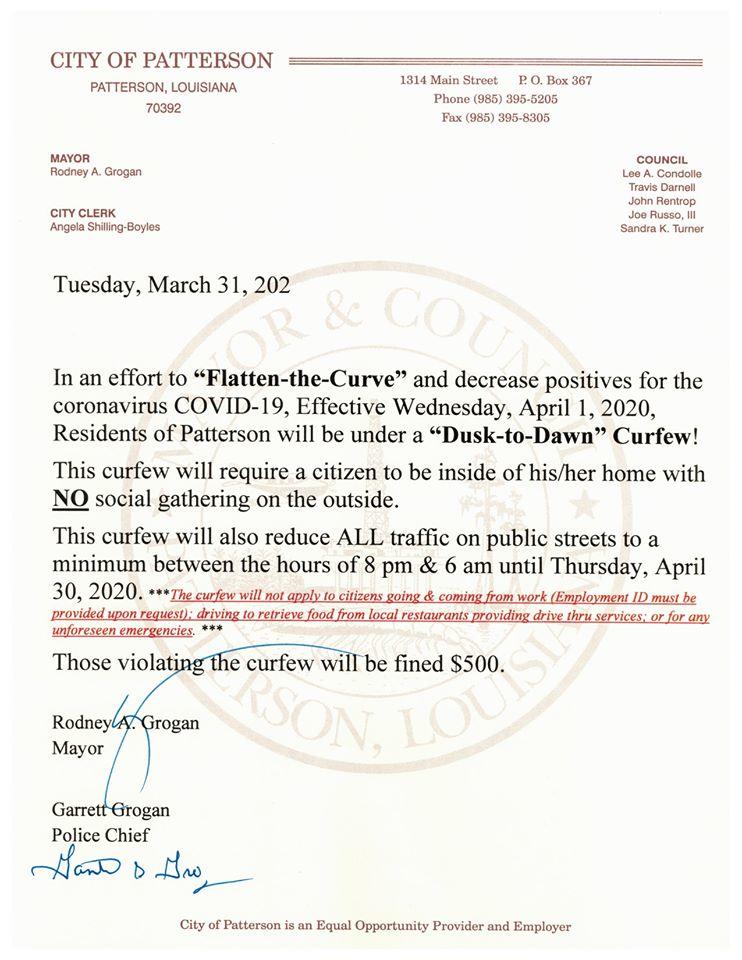 Town of Berwick:
Town Hall is open for business.
Berwick Civic Center is open.
Curfew for minors 10:00 pm Sunday- Friday nights, 11:00 pm Saturday nights.
Mayor's Court suspended for 2 months.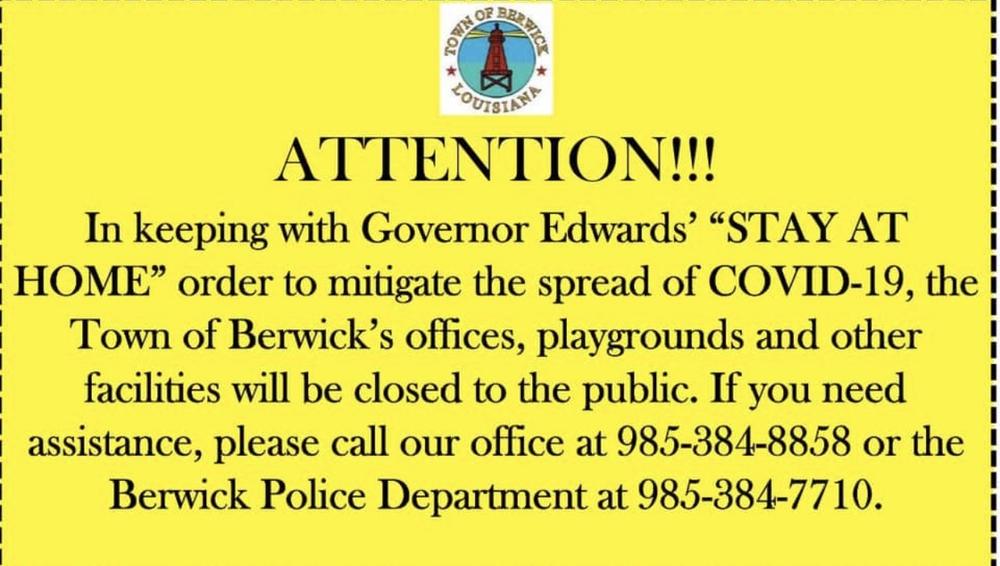 Town of Baldwin:
Town Hall is open for business.
Baldwin Community Center is closed.
Curfew for minors 10:00 pm Sunday- Thursday nights, 12:00 am Friday and Saturday nights.