Archive: October 2016
"We need a K-9." I can't remember who blurted it out, but everyone agreed. And if there was another way to keep drugs out of our kids' hands, I was all in.
With that one discussion, my life changed.
The St. Mary Parish Sheriff's Office has not had a K-9 program for many years. But, Sheriff Mark Hebert knew the value in getting one. The Sheriff's Office applied for and was awarded a grant that would fund a new K-9 team. I remember the day the letter for the spot came out. I've always wanted to do more. I got on the computer and began to research what it took to be a K-9 handler. I needed to know what it would take to be an extraordinary K-9 handler.
The research blew my mind. I knew it would be hard work. I wasn't worried about that. But it would also take support from the department and from my family. I learned that my family would have to endure a lot for me to be the K-9 handler I wanted to be. With my wife's blessing and full support, I applied for the position and got the spot.
The next few weeks dragged by as my supervisor, Major John Kahl, went to K9 Concepts in Broussard, LA and selected the K-9 that would become part of the St. Mary Parish Sheriff's Office. Major Kahl showed me a video of him. His name was Buddy. He was a single purpose (narcotics only) K-9.
Before I knew it, I was off to K-9 school. I trained at K9 Concepts for two weeks. I found out that being a K-9 handler involved way more than what the internet said. I had to learn Dutch and I had to learn how to read my dog. I can tell you it was harder than it looked. But I knew then that I had found my calling.
After becoming a certified K-9 handler in January 2016, I was ready to hit the road. As a narcotics K-9, Buddy was certified to locate a variety of illegal drugs. I also began training with the Terrebonne Parish Sheriff's Office and Houma Police Department. I found that those guys also loved the K-9 world. After a few months of work, I saw even more potential in Buddy. He could be a patrol K-9.
The work began all over again. I went back to K9 Concepts for three weeks of training and then trained for two more weeks with the Terrebonne Parish Sheriff's Office to get Buddy ready to certify. We had to learn so much more: searching buildings, tracking suspects, handler protection, and more Dutch!
Certification day came and Buddy passed. But the work continues. We train each week with the other agencies' K-9 Units. On some days, we have as many as 13 K-9's. By combining the training, our K-9 Units have the opportunity to work in different locations. We train in swimming pools, schools, and even the Mr. Charlie Rig so our law enforcement K-9's are comfortable in any situation they may be deployed to.
Having the K-9 has benefitted the St. Mary Parish Sheriff's Office, the community, and me in many ways. Having Buddy has given us another way to help keep our parish safe and he's given me the motivation to be a better deputy. Buddy loves his job. I can't tell you in words how happy he is to get in the unit to go to work every day. Be sure to say hi when you see us out and always remember that we are here for you.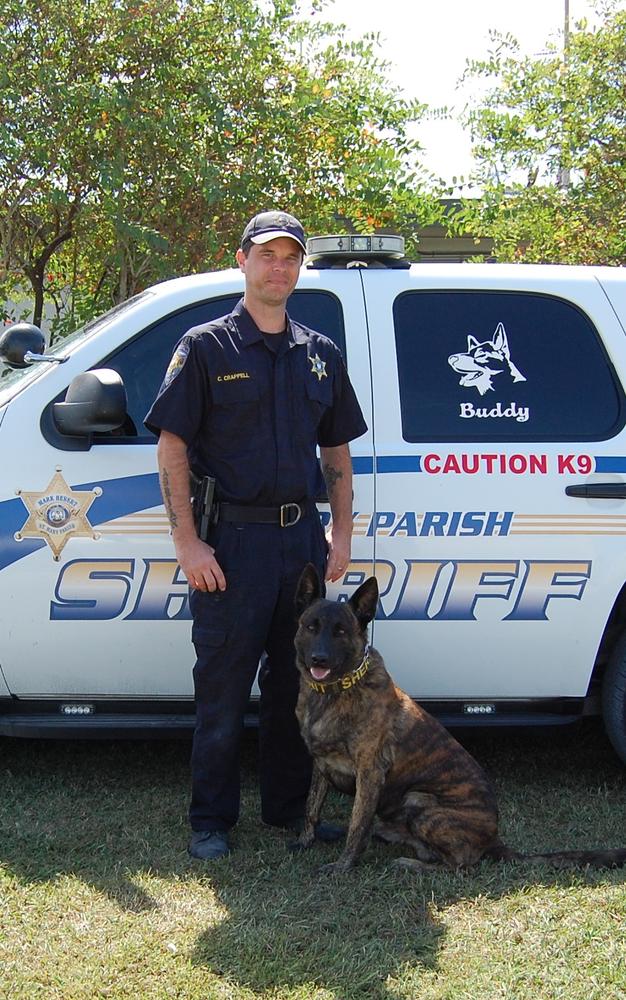 Detective Christopher Crappell
St. Mary Parish Sheriff's Office
K-9 Section
---