Archive: February 2016
In November of 2015, the St. Mary Parish Sheriff's Office Regional Training Academy graduated 8 of the 10 cadets who began training in August.
The cadets of Session 55 underwent 550 hours of rigorous training in defensive tactics, firearms, criminal and traffic law, first aid, community policing, and other areas of law enforcement. Under the direction of Captain Brian Charpentier, cadets achieve a level of mental and physical skill and conditioning that contributes to a positive police culture and equips them to excel at meeting evolving public safety needs.
From service in the military to school teaching, the previous experience that cadets brought to the 55th session resulted in one of the most intense training academies in recent history. Through teamwork, cadets pushed themselves and their classmates to a higher level of excellence in every aspect of their training.
During the graduation address given by Dty. Shepherd, the class challenged future academy sessions to set the bar even higher. Session 56, the next class of cadets, begins training this week.

Session 55 Graduates and Awards:
Physical Fitness Award - Dty. Russo
John Kahl Award of Excellence - Dty. Seidel
For the first time in academy history two cadets with equally high skills took the firearms award for proficiency in shooting - Dty. Robison and Dty. Russo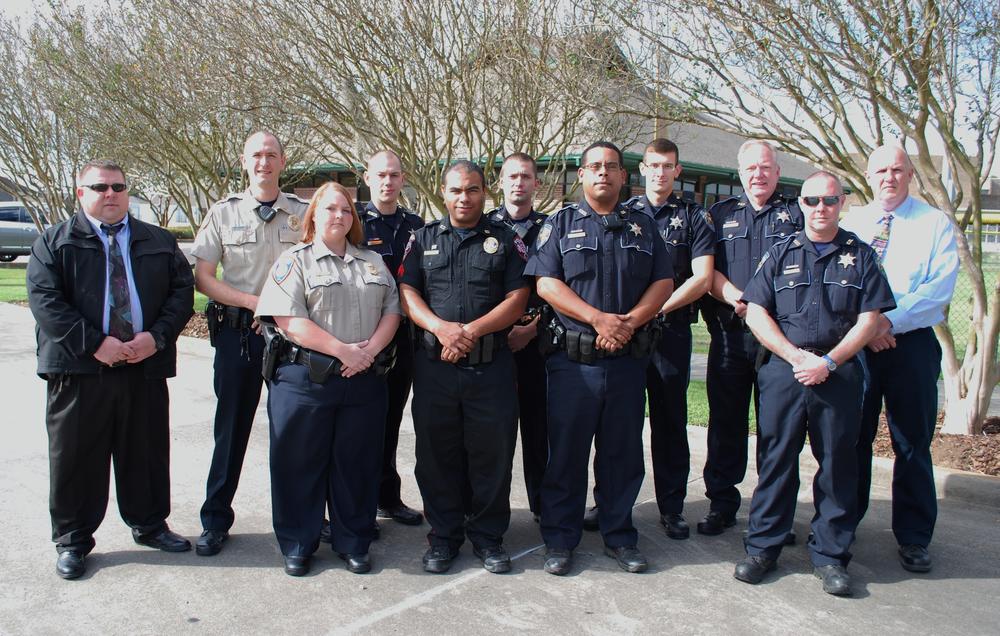 From left to right are: Captain Brian Charpentier, St. Mary Parish Sheriff's Office Regional Training Academy Director; Officer Ben Darden, Chitimacha Tribal Police Department; Officer Tonya Burke, Chitimacha Tribal Police Department; Deputy Kevin Seidel, St. Mary Parish Sheriff's Office; Officer Joseph Trevigne, V, Nicholls State University Police Department; Deputy Adam Robison, St. Mary Parish Sheriff's Office; Deputy Joshua Sylve, St. Mary Parish Sheriff's Office; Deputy Ryan Russo, St. Mary Parish Sheriff's Office; Deputy Walter Shepherd, St. Mary Parish Sheriff's Office; Corporal Dustin Crabtree, Academy Instructor; and Captain Joe Clements, St. Mary Parish Sheriff's Office Regional Training Academy Assistant Director
---