Above, Detective Chris Crappell (with coffee) and K-9 Buddy at a morning briefing in the squad room. Below, K-9 Buddy patiently plays dress up with his partner's daughters.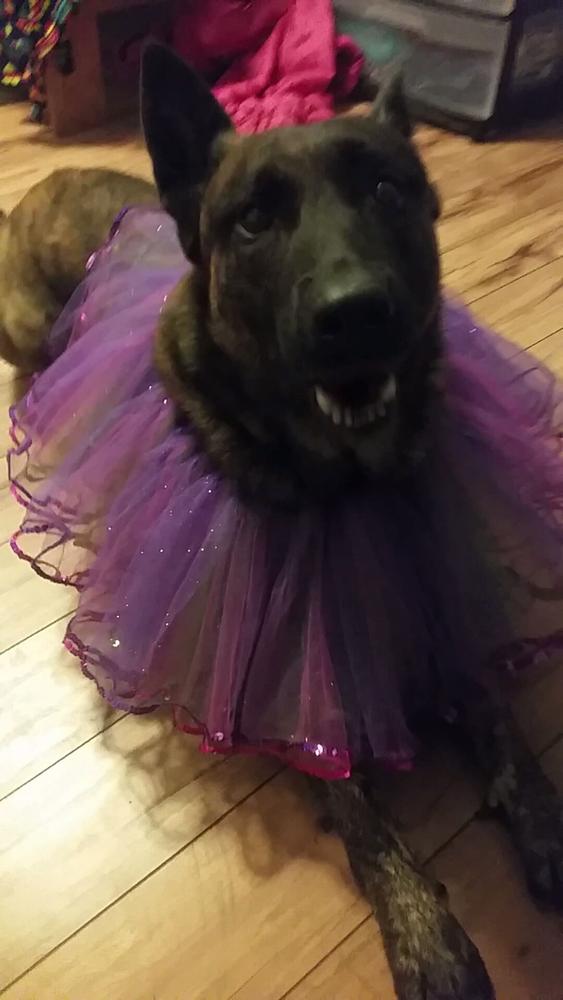 Becoming a K-9 handler is a lifestyle change that affects more than just the deputy taking on the responsibility of a police dog. St. Mary Parish Sheriff's Office K-9 handler Detective Chris Crappell explains.
My 6-year-old daughter, who is a big help and had learned to speak Dutch like Buddy, says, "It's good to live with Buddy because if a bad guy comes in, he will bite him. Buddy eats dog food and only at night because he doesn't eat at daytime. Buddy got a new leash. "At bath time, we bathe Buddy outside because he will get the whole place all hairy. Buddy has fun at the camp. He rides in a cage when we go to vacation. When we went to dig for diamonds (in Arkansas). Buddy watched over everybody for bad guys. He's like a 5-year-old and that's like me but I'm 6. When you throw Buddy's toy you have to say aport and not fetch because he's trained in Dutch." "He's a good protector but he's mostly fun. When he goes outside he plays with us."
My 11-year-old daughter says, "Whenever we first got buddy, you couldn't play with him because he's still getting used to you. He is our family but we still have to be careful because he is a cop dog. He's like a brother. He protects every good person. I think if more cops have dogs it could be
easier to find more drugs and stop more bad guys. He gets excited when we let him out. He's the best dog ever."
My 2-year-old daughter says, "I like to hug him".
I hope you enjoyed a look into our life with Buddy. In closing, I'd like to thank everyone for the care and support you give me and Buddy as we work to fight crime.
- Detective Chris Crappell
---